Big Gas Truck

FTLComm - Tisdale - July 15, 1999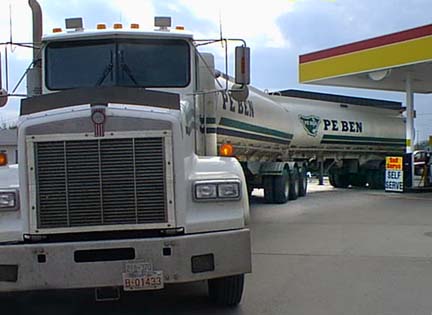 This "B" train makes its run regularly to Tisdale to keep up the flow at the 7-11. The truck dumps off its entire load at this one stop and then heads back to its home base in Saskatoon. The driver works a twelve hour shift making two runs a day. He does not work full time for Pe Ben but like so many people is a part time worker.

Units like this hold a massive amount of fuel, each trailer has three compartments in the aluminum tanks. Surprisingly these vehicles are far more dangerous when empty then when full. Liquid gasoline is neither explosive or will even burn, it must be converted to a vapour for that to take
place. An empty truck has a good mix of air and gas vapour in its tanks and in a collision can explode.
There are only two refineries on the Canadian plains, Edmonton's ESSO and the Co-op refinery in Regina. Here in Saskatchewan and North Dakota, doesn't matter what place you stop for fuel, it all comes from the Regina refinery.

This truck loads up from a storage facility in Saskatoon that is fed by a product pipe line from Regina. Perhaps this explains why Saskatoon consumers always have hire prices to pay then in Regina, they are paying for that pipeline.

Gasoline prices have risen throughout North America over the past week as the producers claim that they experience a shortage in the area of Southern California and that has increased the demand elsewhere. The credibility of oil producers is not very high as crude prices remain very low and it looks like they have all decided its time just to take a bigger slice of the profit pie.