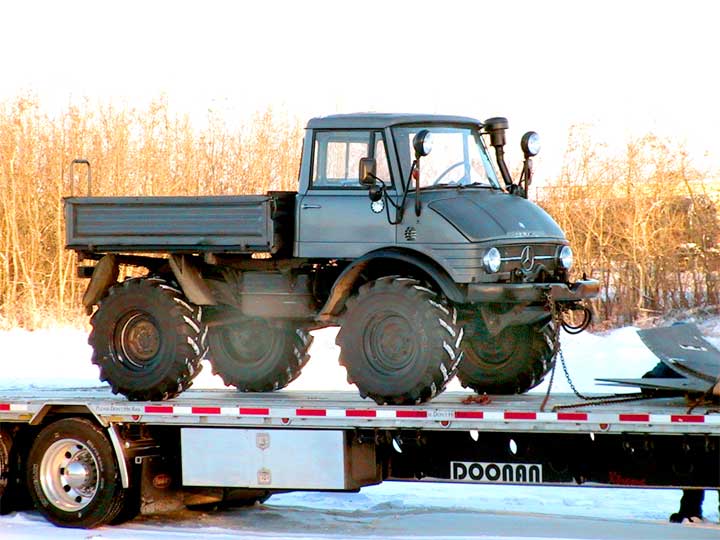 Unimog
FTLComm - Tisdale - Wednesday, January 19, 2005

A week ago today I spotted this odd contraption being snugged down on a trailer at Kramer Tractor. It is no question that this fits the description as odd but then something really is only odd to someone when you have not seen another of its kind.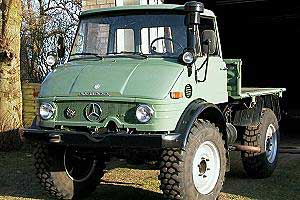 I went to the source of all information, "google" and within a few minutes there it was, pictures of the extremely widely used Daimler-Benz utility vehicle, originally designed for agriculture as a sort of tractor, the Unimog. Apparently a plant in Germany has been turning these things out by the thousands since the early fifties and they have found fame and affection all over the world. This particular one appears to be "406" version and by the look of it is in remarkable condition. Most of the former military ones are "404" versions and include soft top ones with radio covered boxes instead of a box or flat bed.

With a little looking around I found that they can be purchased new in North America from Benz and there are used ones in all sorts of parts of the continent with most older versions in running condition going for about $10,000 US. When I checked eBay there were ten German Army ones up for sale as a lot with seven running and three for parts, the bid for them at that time, two days be for they were sold was $12,000US for the whole works.

But compared to other military and civilian off road vehicles this looks like the champ. Four wheel or two wheel drive on the fly, top speed of about 60 mph but with clearance well above anything else and the ability to tackle incredible grades as the vehicle was designed with a remarkably low centre of gravity.
References:
Schramm, Georg Wolfgang Unimog - A German Legend, as seen January 19, 2005 on the WEb
Unimog Network Int'l Beyond boundaries as seen January 19, 2005 on the WEb
Daimler-Benz Required Equipment as seen January 19, 2005 on the WEb
Daimler-Benz About Us as seen January 19, 2005 on the WEb
Runner, Eddie L. Eddie's Unimog as seen January 19, 2005 on the WEb
Miller, Jeff Mercedes-Benz Unimog as seen January 19, 2005 on the WEb
Ince, James The Mercedes-Benz UNIMOG... "MAN'S BEST FRIEND" 1995
Paul Mountaintop Mobile as seen January 19, 2005 on the Web
Suzuki, David, Give your head a shake, March 2, 2001
---
Return to Ensign - Return to Saskatchewan News
This page is a story posted on Ensign and/or Saskatchewan News, both of which are daily web sites offering a variety of material from scenic images, political commentary, information and news. These publications are the work of Faster Than Light Communications . If you would like to comment on this story or you wish to contact the editor of these sites please send us email.
Editor : Timothy W. Shire
Faster Than Light Communication
Box 1776, Tisdale, Saskatchewan, Canada, S0E 1T0
306 873 2004