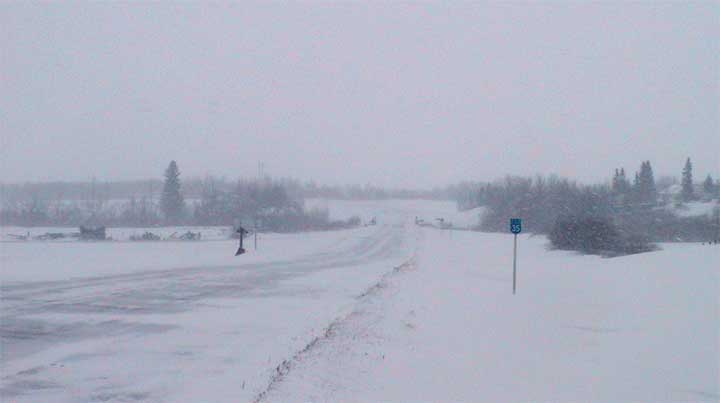 Looking north up 35 toward Nipawin
Sneak attack:
Heavy snow warning turns into late winter blizzard
FTLComm - Tisdale - Friday, March 19, 2004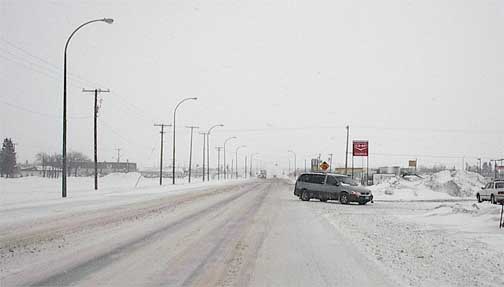 Environment Canada was prompt in issuing weather warnings and advisories Thursday morning when it alerted Saskatchewan people of a storm that was to sweep from Saskatoon to Regina and then to Carlyle and on the North side of the disturbance a "heavy snowfall warning" was issued.

What transpired was a little different and no blame can be given Environment Canada because this was a large weather system dumping snow with high winds and temperatures near the freezing mark.

In the Regina area the main problem was the wind and ice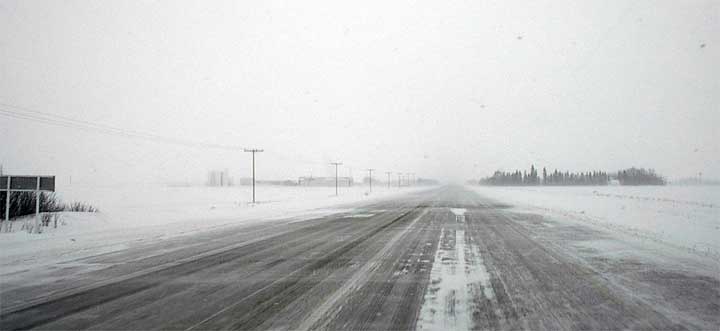 East on #3 at 2:30 this afternoon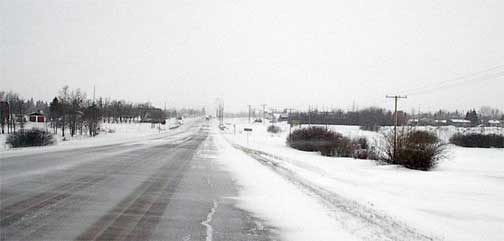 with Balgonie once again having to look after hundreds of stranded travelers on Highway #1 just East of Regina. With some melting a rain shower and then freezing the roads were without friction.

The storm that developed in this part of the province was a sneak attack as we all expected snow but an unexpected wind turned it into a blizzard with Tisdale folks stranded in Prince Albert and Melfort.
highway #3 approaching Tisdale from the East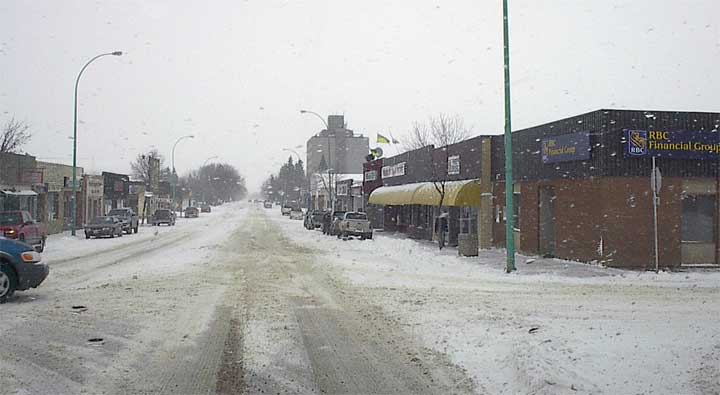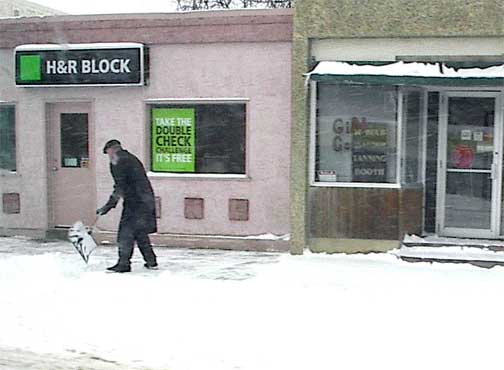 One motorist who had spent the night in Melfort counted seven ditched vehicles between Melfort and Tisdale and a "B" train that found itself in the ditch.

Snow continued to fall on Tisdale all afternoon and it ended at 6:30 with lots of white stuff. The town had not been able to clear main street and it was difficult parking this afternoon.

This late in March we often think that just because this weekend is the official coming of spring does not necessarily coincide with the weather's ability to toss us snow, wind, rain, and ice all within an hour or two.

Just remember if you can't see, don't go.

Return to Ensign - Return to Saskatchewan News
This page is a story posted on Ensign and/or Saskatchewan News, both of which are daily web sites offering a variety of material from scenic images, political commentary, information and news. These publications are the work of Faster Than Light Communications . If you would like to comment on this story or you wish to contact the editor of these sites please send us email.
Editor : Timothy W. Shire
Faster Than Light Communication
Box 1776, Tisdale, Saskatchewan, Canada, S0E 1T0
306 873 2004