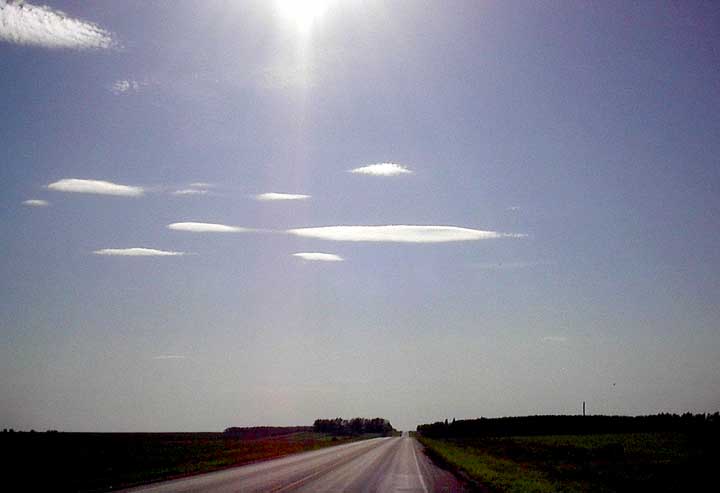 Space Ship Clouds
FTLComm - Tisdale - Sunday, June 22, 2003
Most often we look up into the sky and see the whispy cotton candy strands of cirrus clouds and associate that with high winds. That is completely appropriate, as this clouds are produced by the rapid movement of air in the upper atmosphere, as occurs with the "jet stream". However, a high speed surface wind can induce a remarkable and distinct cloud formation that is a clear indicator of high speed surface wind.
Imagine a strong wind from the West or South West as it carries with it the humidity appropriate to its altitude, Such a wind striking the sharply rising terrain of the Rocky mountains moves from horizontal to vertical. As it rushes upward the temperatures drops rapidly, its water vapour freezes and a cloud is formed. This type of cloud is most often shaped like a lens and typically will be tilted upward. Referred to as "lenticular" clouds they will often be described as standing, as they appear not to move as other clouds might. However, they, like all airborne objects are in motion and lenticular clouds form far above the mountain tops and then flow with the airin which they are suspended, in the direction of the wind.
These lenticulars seen in this picture were photographed from East of Naicam Thursday, June 19th with wind warnings in affect for most of Saskatchewan. Our surface wind at the time was about 35Knots. The flight conditions associated with such clouds are not pleasant, as the air will be extremely turbulent and light aircraft, if they must fly in such conditions, are best to maintain minimum altitude against the wind and even flying with the wind, they should keep their speed down and not exceed 5,000 agl.
Though we associate the lenticular cloud with mountain and atmospheric interaction as we can see these clouds have progressed from Western Alberta to us and would continue onward, even on the open prairie, high winds will bound off hills and valley walls creating a nasty bump far above and downwind of the reacting surface. Even large aircraft can be damaged from such a bump, but you can fly through them if you reduce speed and are ready, or anticipate their unseen presence. Learning to handle mountain wind conditions is one of the most difficult tasks facing a Canadian pilot. The unseen rising air is always accompanied by equally rapid descending air beyond the crest of a bump. Pilots of all sizes of aircraft will experience spectacular increase and decreases of altitude in such conditions. In actual mountainous terrain, these winds can actually become rotary winds and this often occurs without cloud to warn you of their existence. Clearly, attempting a mountain flight in a small aircraft with winds over over 35Knots is not advisable since such conditions can result in complete loss of control and or disasssembly of the aircraft.
Though I have described the basic formation of lenticular clouds they can really be far more complex appearing like stacks of pancakes or other sharply defined objects. In the references below you will discover a large number of examples with pictures illustrating the wide range of formations that can be described as lenticular clouds. Most of the examples are from mountainous areas. The lenticular clouds you will see in Saskatchewan will be usually far more simple and basic as the clouds are flattened out in their journey from the mountains to over head in Saskatchewan. But what defines them, is the crisp lines demarking the cloud and sky. When you see them, land and tie down your aircraft.
References:
Mountain Waves & Clouds, this is a PDF document that descibes the science involved in these cloud formations.
Nelson, Mike, Flying saucer clouds, (as visited June 22, 2003) KUSA TV Denver (this is a straight-forward explanation of the phenomena)
Lenticular clouds (this includes an animation that illustrates their formation) (as visited June 22, 2003)
Aviation weather, Tutorial, Lenticular clouds, (as visited June 22, 2003)
Meyer, Mark, A lenticular cloud over Wyominng, March 26, 2000 (as visited June 22, 2003) Astronomy Picture of the Day
Thalmann, Kerry L. Mount Hood - Alpenglow and Lenticular clouds (as visited June 22, 2003) Mount Hood National forest, OR
Richardson, Gordon, Gordo's uplif cloud gallery, (as visited June 22, 2003)
Richardson, Gordon, Layered Lenticular clouds, April 1998 Gordo's Cape Town photo and weather home page
Thurlow, Dave, Listener Question: Lenticular clouds, (as visited June 22, 2003) The Weather Notebook
Maria, Lenticular clouds March 25, 2003, alemic:
Lester, Lynda, Saucers from space, March 20, 2002, SCD News
Rufo, Jim, Lenticular cloud sequence from Jim Rufo, PSC Cloud Photo
Rufo, Jim, A Lenticular loud over New Hampshire, April 20, 2003, PSC cloud photo, Xware
Johnson, Dr. Sharon, Lenticular clouds, April 1972, Berkley
Andalkar, Amar, Skiing the Muir Snowfield, (Mount Rainer) June 25, 1999
Mason, John, Lenticular clouds - UK examples, (as visited June 22, 2003) JOHN MASON'S SEVERE WEATHER IN WALES PAGES
Scott, Ken, Lenticular wave clouds over Goatfell at dawn, October 9, 2002, Touching the Light
Doc Tank, Lenticular clouds (as visited June 22, 2003)
Picking, Christopher J, Lenticular clouds, (as visited June 22, 2003)
Ahrens, C. Donald Lenticular clouds, (as visited June 22, 2003) Meteorology Today, 1994 West Publishing Company
AGI Everest Lenticular clouds (as visited June 22, 2003)
Shargel, Marc, Lentikular clouds, (as visited June 22, 2003) Lumigenic Media
Moore, Bruce, Lenticular clouds (as visited June 22, 2003) Artsyfartsy
a page of outstanding Lenticular images no credits available visited today, June 22, 2003
Nooney, More examples of lenticular clouds, January 19, 2003, Gerry Nolan web site
Williams, G. Arnell, New Mexico Sky: Lentcular cloud & Sun, (as visited June 22, 2003) Drama in Nature A celebration of light home page
Cloudwatch Europe 2000 homepage
---
Return to Ensign - Return to Saskatchewan News
This page is a story posted on Ensign and/or Saskatchewan News, both of which are daily web sites offering a variety of material from scenic images, political commentary, information and news. These publications are the work of Faster Than Light Communications . If you would like to comment on this story or you wish to contact the editor of these sites please send us email.
Editor : Timothy W. Shire
Faster Than Light Communication
Box 1776, Tisdale, Saskatchewan, Canada, S0E 1T0
306 873 2004