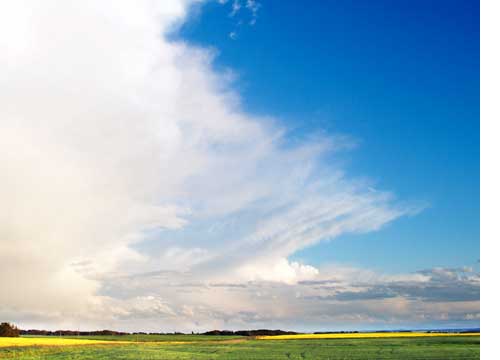 There are just no superlatives sufficient to cover the drama and power of massive thunderstorms like those that swept over the prairies this past weekend. The tail end of the system rattled its way past Kipling Saturday evening and the experience was overwhelming.
When one of those monster anvil head thunder clouds runs out of rain the top of the cloud comes crashing down toward the freezing level and meets rising warm air heading skyward at more than 2,000 feet a minute. This causes the cloud to explode outward producing this blow out pattern seen in the first two pictures on this page. But that is hardly the end of the story.
These clouds are formed over warm wet air, with very cold air aloft. The huge differential in temperature means that the wet warm air is so very light it rushes skyward at a phenomenal speed carrying with it water vapour which freezes. As the cycle continues the frozen water droplets head back toward the earth only to be caught and sent skyward again by the rush of vertical air. The cycle continues increasing the size of the ice droplet until it becomes hail and the vertical wind can no longer sustain it and it falls to earth.
In most cases we do not see this angry process of vertical wind but in the picture below, you can see the affects of the vertical blast of air causing the base of the cloud to have a unique pattern that shows the rush of wind upward. This is the beginning of a new thunder cloud from the one that has just disappated.