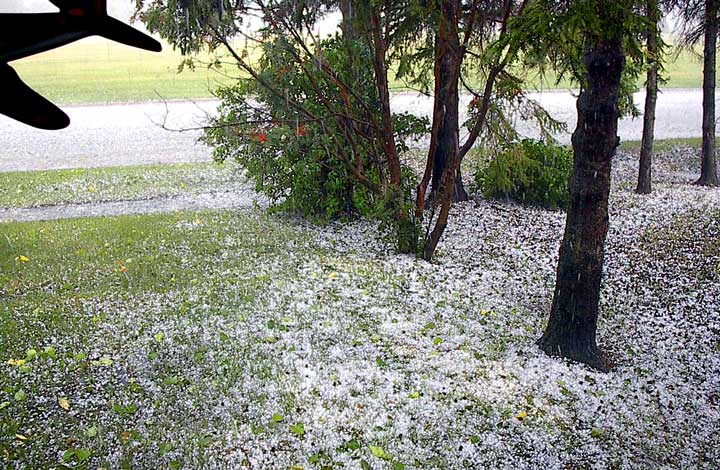 A little hail and a little rain
FTLComm - Tisdale - Tuesday, September 2, 2003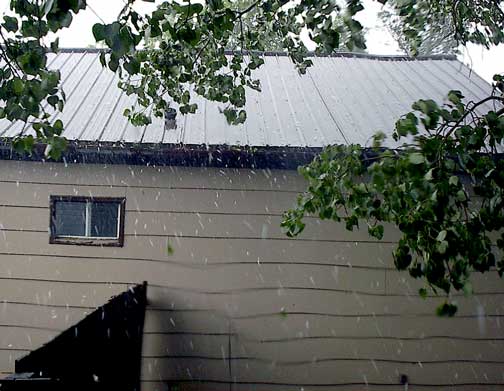 It probably could described as a glancing blow. Sunday at five Tisdale heard the mild sound of thunder. After a long period of very dry and exceptionally hot weather I am certain most folks like me just figure "promises, promises all I ever hear is promises." A few moments later the rain began to fall fairly heavily then the ominous rattle of hail stones.

Though it made a nasty noise the hail was less than marble size and nipped off leaves and twigs but was otherwise pretty harmless. One fellow told me that it smashed the cherry tomatoes but otherwise did little damage.

Since most of the crops have been harvested with the exception of the Canola which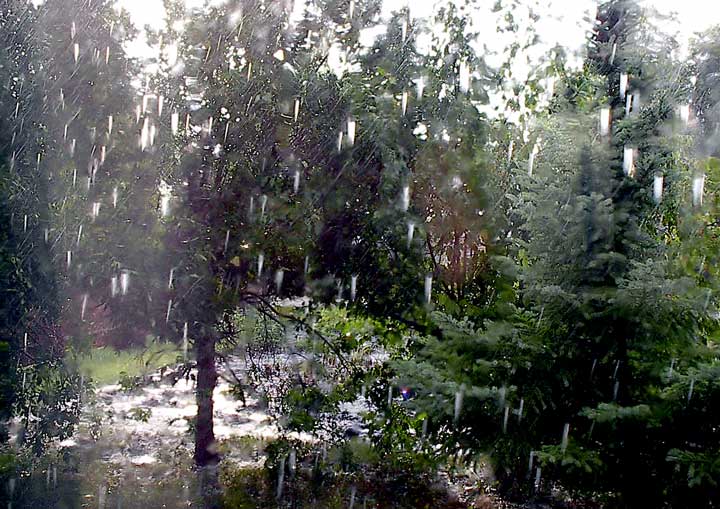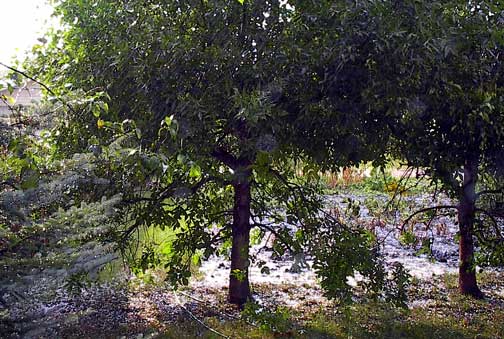 is laying swathed in the fields and unlikely to suffer damage from this small hail downfall.

During the years since this web site came into being we have only had a few instances of hail and this little event would be about as serious as we have seen in the eight years we have been in Tisdale.

However, this is probably an exception because throughout the province there have been some pretty nasty hail storms this year. With the hail came about a half inch of rain in just over five minutes. A small shower brought a little more moisture about half an hour later. These showers were pretty wide spread affecting all of the Northern grain belt while North of Northside there was continuos rain to LaRonge throughout last evening. This will put the forest fire situation back to a safe level.
---
Return to Ensign - Return to Saskatchewan News
This page is a story posted on Ensign and/or Saskatchewan News, both of which are daily web sites offering a variety of material from scenic images, political commentary, information and news. These publications are the work of Faster Than Light Communications . If you would like to comment on this story or you wish to contact the editor of these sites please send us email.
Editor : Timothy W. Shire
Faster Than Light Communication
Box 1776, Tisdale, Saskatchewan, Canada, S0E 1T0
306 873 2004