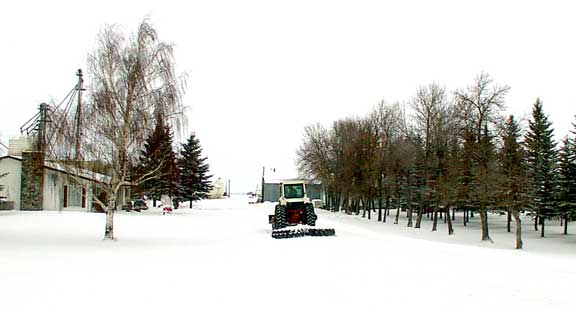 Storm Season
FTLComm - Tisdale - Monday, February 11, 2002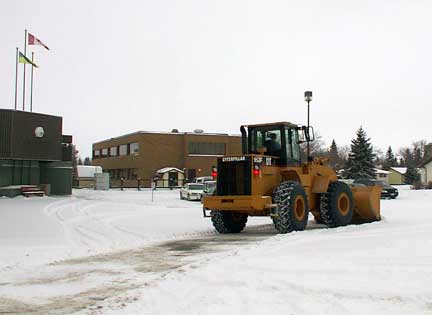 Last night we had the actual first storm of this winter as there was snow and blowing snow and this morning it was time to clean up a bit. All around town people were shovelling driveways, running their snow blowers and out at Phillip's Seeds (above) running the tire float up and downt he driveway.

Cupa Excavation was at work on the Co-op parking lot while Wicks was clearing their parking lot with their bobcat.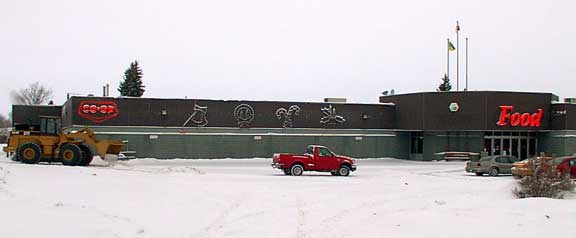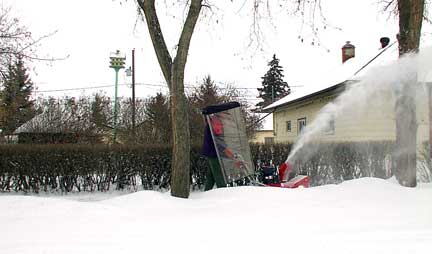 When the quasi-stationary front that is that line between arctic and moderate air makes its way North each year it brings with it warm Pacific air and the gradient between the Pacifi Low pressure areas and the Arctic high is extreme producing the wind warning this morning in Southern Saskatchewan. A Regina resident explained this morning that is was really miserable in the city this morning. The old wives tale is that thunder and lightening in February will mean an extended winter and this morning Regina residents had a chance to hear some thunder and see some lightening.

For most Saskatchewan residence this is a pleasant annoyance. That snow is indeed moisture and the parched prairie needs every drop it can get. From Moose Jaw West it is desert, no snow and the persistent warm temperatures (often well above freezing) has even further dried out the fields and pastures. So quasi-stationary front - bring it on!