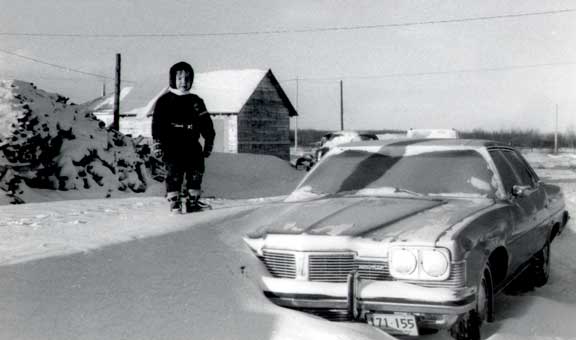 A little storm in February 1975
FTLComm - Tisdale - Friday, January 24, 2003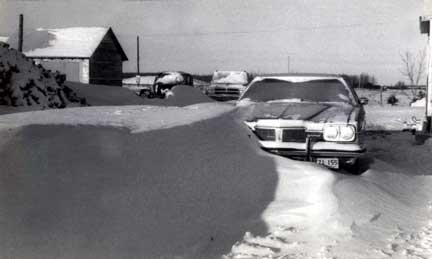 We had moved to Weekes in the fall of 1973 and in the late summer of 1974 with TimII and baby Andrew we moved into a new trailer right in Weekes.

The village did not have water and sewer and it was a pretty touch winter as you can see the water containers around the porch (below). We had a pressure system and a septic tank and lots of frozen lines both that winter and the next.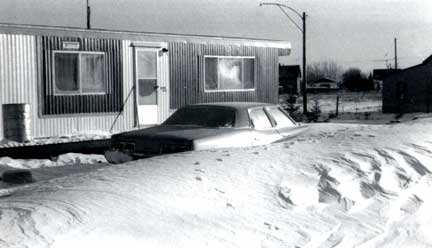 It was mid February of 1975 when this storm howled through the village. Weekes sits beside the forest and usually does not get blasted like this but the wind and snow came from the Northwest and filled our yard flowing over the car and packing in around Martha (1939 Pontiac) and the pickup.

Storms like these make Saskatchewan people what they are. They teach you that you can make it through a difficult time and my wife and I look back on the three years we lived in Weekes as the best place we ever lived. In the picture below you can see the skating rink was just across the street and across the street to the East were the best neighbours anyone could have.

As for Tim (top of page) he began kindergarten in Weekes and shared in the adventures of living right beside the forest and with a whole school of teenagers who treated him like a member of each of their families. One day he followed a class down to the town hall which we were using as a gym, as at that time Weekes school did not have a gym. He watched the students play volleyball and then got absorbed in something. The class and their teacher had left the building forgetting that the five year old had been there with them, They locked up the town hall and turned out the lights and that's when he discovered he was locked inside a big dark building. In the darkness he could not find an exit and decided that the solution was to find a way out. On the front of the building, facing the street and the South was a large picture window, the only lit place. Accepting the fact he was trapped, he found an axe and you guessed it, we had to buy the town a new picture window.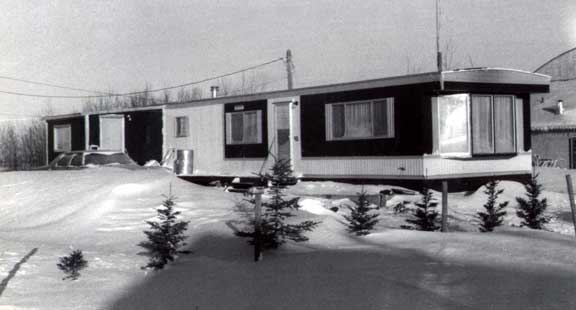 ---
Return to Ensign - Return to Saskatchewan News
This page is a story posted on Ensign and/or Saskatchewan News, both of which are daily web sites offering a variety of material from scenic images, political commentary, information and news. These publications are the work of Faster Than Light Communications . If you would like to comment on this story or you wish to contact the editor of these sites please send us email.
Editor : Timothy W. Shire
Faster Than Light Communication
Box 1776, Tisdale, Saskatchewan, Canada, S0E 1T0
306 873 2004