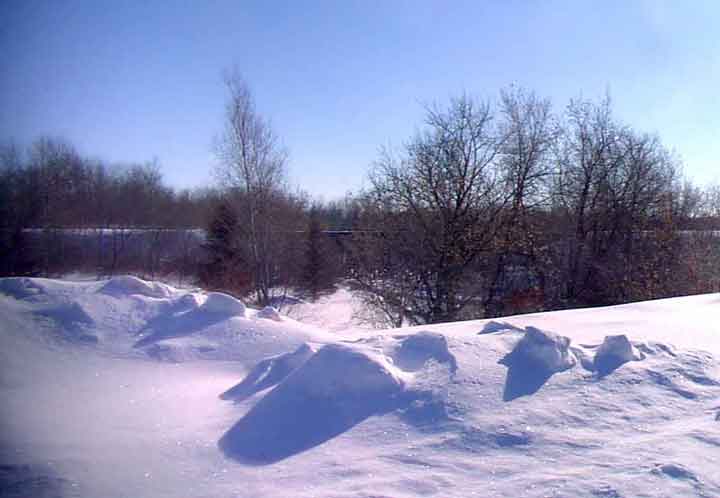 Piling up, good looking winter
FTLComm - Tisdale - Saturday, February 8, 2003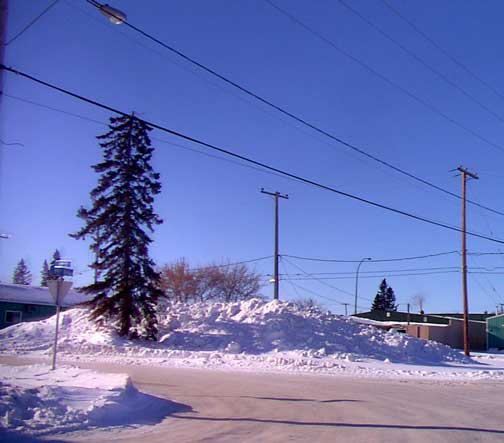 On Thursday I mentioned the way we have been getting very small amounts of snow on a regular basis. I accompanied that story with a single example but today had the opportunity to drive around and gather some additional evidence that will better give you an idea of what it is like here in Tisdale at this time of the year.

February is not a typical year, that alone is an odd thing to say because in fact there is no such thing as weather has such a remarkable variation that we never seen the same things ever. However, what we do compile is a sort of average of what it has been like during our lifetime and compared to my half century this is close to average for temperature but slightly below average for snowfall. However as mentioned Thursday compared to arid conditions of the past few years things are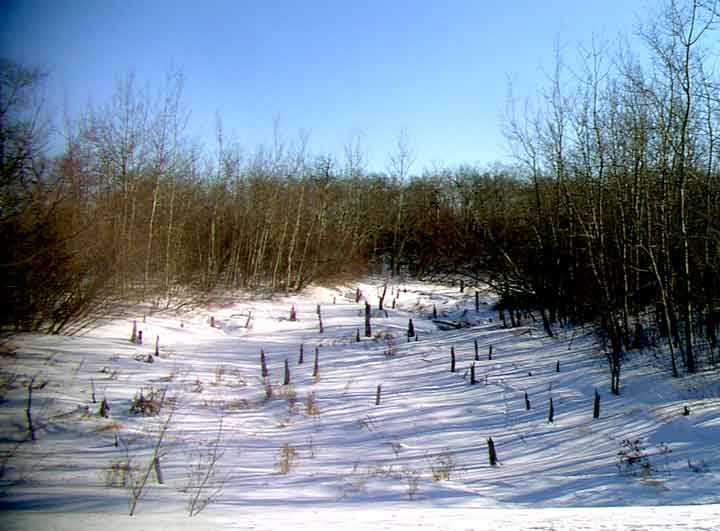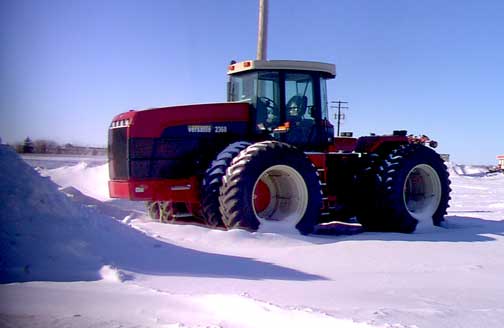 Looking better. The image above is a slough North of town that has been empty for several years yet as you can see the drown tree stumps of years ago are testament to what was once normal.

For everyone in this part of the world we want to see this guy put to work. I was out in the John Bob Farm Equipment yard this morning catching some additional images for their soon to be revitalised web site as they were one of the first business after Bow Mar sales to have their own web site back in 1998. Their updated site should be up and running later this week at JohnBob.ca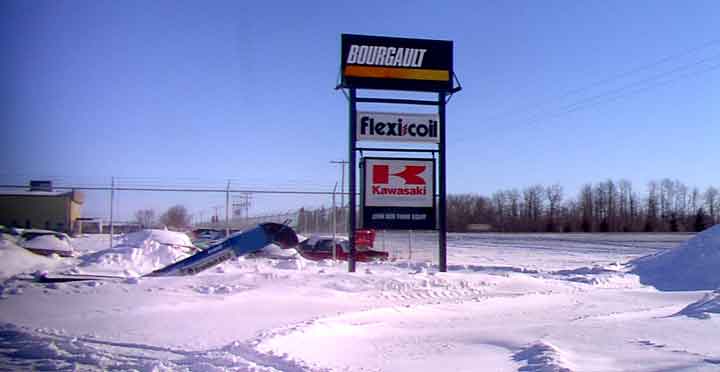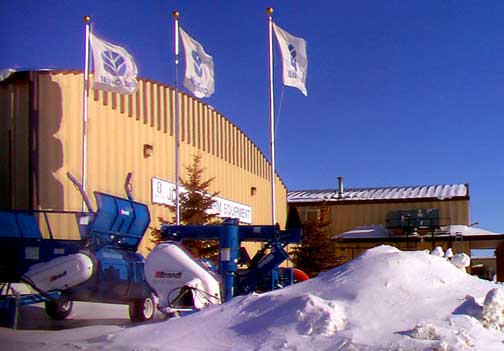 But as I was looking around the snow piled up is indeed piling up. Little by little we are starting to see things as we not only would like to see them but expect to see our world at this time of the year. By the way there was a 70% chance of snow flurries over most of Saskatchewan for today.

It was in November of 2001 that I took a picture of the same scene as we see below when I was concerned about the drought in a story called Tisdale Montana. Normally, (keep in mind what that means) we expect snow in Saskatchewan on Halloween and definitely the ground is almost always white by Remembrance Day on November 11.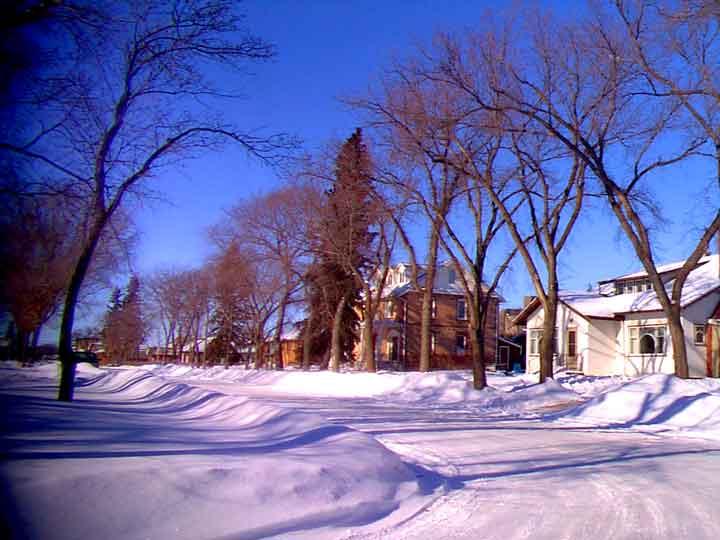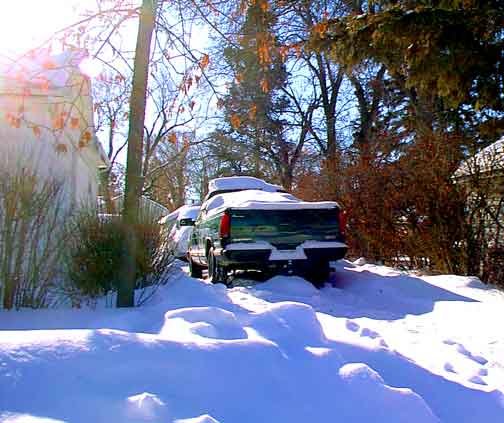 This pickup with snow piled on its roof and is back filled driveway gives some indication of the way things have been over the past few weeks.

In the fall the front yard wood pile was shown in a picture here on this web site but now it is covered with fallen and blown snow.

In all of these pictures you will notice the very unusual condition of dried leaves still on the trees. This is something that I do not recall having seen in other years and most believe it was due to the truly strange year this past summer when the trees were so delayed in getting their leaves then with the leaves still green it froze without the trees doing their normal "put things away for winter" routine.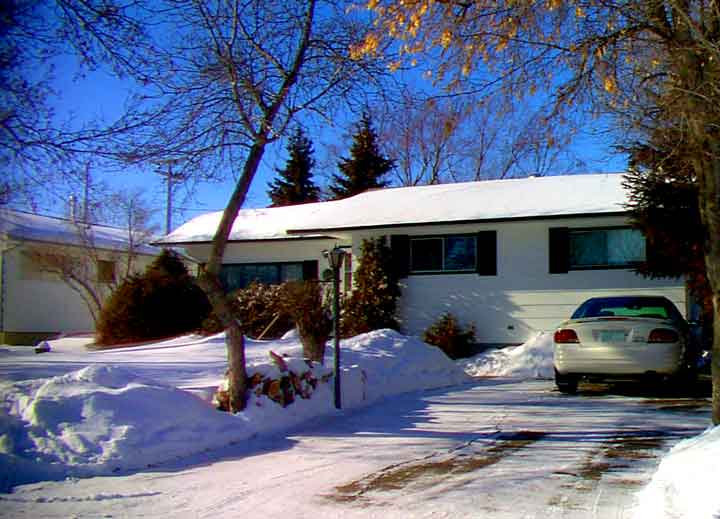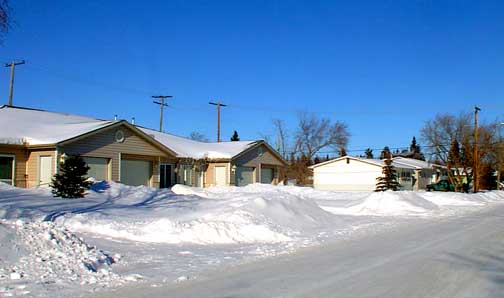 These drive ways are all cleared and on the East side of town I saw the sidewalks careful blown clean. Snow is not the solution to a drought but it is a distinct sign of a major trend away from the pattern of the past few years.

In both February 2001 and 2002 we had some cold weather but the over all temperatures were milder. You can see the morning temperature and sky conditions by checking out the weather log for the Ensign web site. I am finishing this story up after a day when the temperature was able to reach -19ºC and right now at 6:45 it is -23ºC and expected to descend about five degrees during the night.
---
Return to Ensign - Return to Saskatchewan News
This page is a story posted on Ensign and/or Saskatchewan News, both of which are daily web sites offering a variety of material from scenic images, political commentary, information and news. These publications are the work of Faster Than Light Communications . If you would like to comment on this story or you wish to contact the editor of these sites please send us email.
Editor : Timothy W. Shire
Faster Than Light Communication
Box 1776, Tisdale, Saskatchewan, Canada, S0E 1T0
306 873 2004