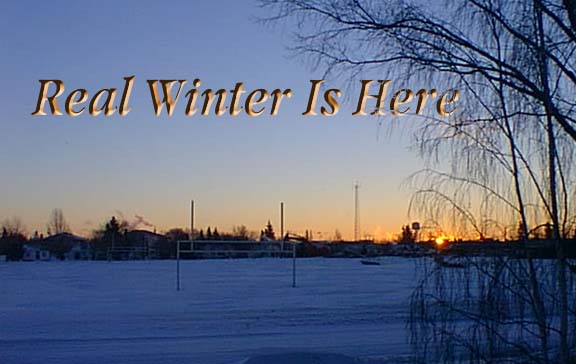 FTLComm - Tisdale - December 20, 1999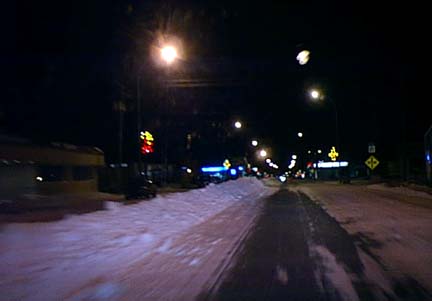 As the days reach this point in the year when the sun makes a really short appearance each day, the temperature can plunge much lower then anything close to comfortable. However, for this latitude it is comforting to see the passage of this time of the year and realise that with in three days each day will get just a little longer. It was 9:15 when the picture was taken above showing the sun just peaking over the horizon.

On Saturday the amount of snow that fell was not that great but the accompanying winds deposited most of it in the streets and alleys of town. The picture on the right shows the situation around 7:30 Sunday night as town crews were out attempting
t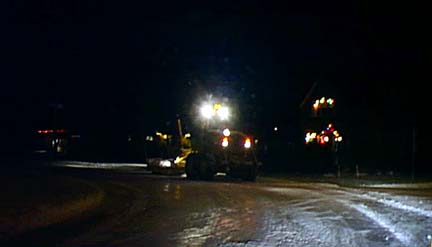 o clear off most of the streets
where conditions were the worst.

Mountains of snow were piled along the main street and piles were created on each side street so that visibility was difficult to see around them for on coming traffic.

The picture on the right shows a town grader busily clearing the streets South of the bowling alley.

The temperatures are staying between -27 and -33 which means that casual walking about is not done especially if the wind gets up at all.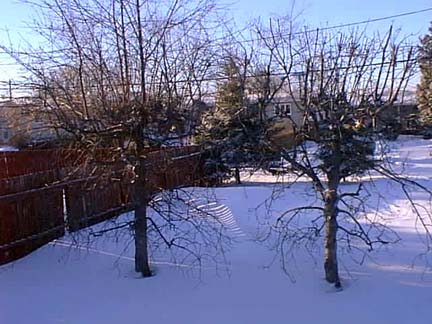 On Saturday I had washed both the van and car and could not get into either of them last night until I dumped water on the Van's driver's door which allowed me to get in to start it up.

The picture on the right was taken Sunday morning and as you can see there has been a nice little snow drift deposited on the garden and the sun sneaking through the slits in the fence lead me to capture the remarkable shadows on the snow.

Tomorrow we are driving into Saskatoon for the day and no doubt that will give us some adventures to write about on Wednesday. This is not a shopping trip, its far to early for me to get into Christmas shopping already.