Winter Comes To Tisdale
FTLComm - Tisdale - December 4, 1998

Many of the readers of Ensign live in much different locations then the North Central area of Saskatchewan. This message is to give you some idea of the seasonal change that has just occurred. As you have noticed on network television both Canadian and American there has been a concern about the remarkably warm fall that has occurred throughout North America. Climatologists have been consulted and given air time as they try to explain the phenomena of golfing in Chicago in December and green grass on the ski slopes of Vermont.

The primary engine that creates the continental weather in North America is the Gulf of Alaska. Its stationary low pressure area controls the movement of the Northern jet stream, the high speed current of air that whips around the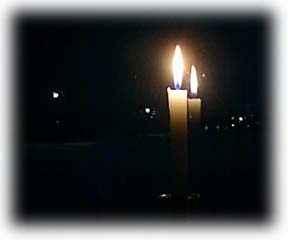 globe carrying with it Arctic air. The high temperatures of the past winter and summer have left North America and its water masses much warmer then usual and even though the days have progressively gotten shorter, as they should, the air has remained unseasonably warm. The Pacific Ocean itself has chilled considerably and its currents though still warmer then usual, are moving toward normal levels.

If you draw a line from Juneau Alaska to Chicago the area North of that line should be winter and below that line, fall like cool autumn temperatures. Such a line actually exists, it is called the Quasi-stationary front and it slips back and forth across North America each year. Today that line moved from North of La Ronge to just along the Yellowhead highway #16. To the North of the front temperatures fell to normal levels of -20 and below, while South of that line, cloud formed and Regina, Moose Jaw and Saskatoon are still under the influence of the late fall temperatures of -4 to -8.

As the front moves South it brings with it a mixing zone where the water in the atmosphere is kicked out into precipitation as was the case Wednesday night when La Ronge received over a foot of snow in less then an hour. The Arctic high stepped well South last night as the image, upper right was taken with a brilliant moonlit evening and flawless sky. This morning at 0600 ice fog limited visibility but by 0700 most of that had blown away and the frontal cloud system began to recede to the South East.

Alas good friends, this is winter. We should expect normal winter temperatures now if the cold front is able to establish itself and we will begin to experience the phenomena weather men like to refer to as "waves". This term is a helpful cover up for not knowing what is happening, but that Gulf of Alaska stationary low tends to pump ripples of wet air up against the arctic front that trundle their way across the Northern Rockies, sprinkle snow on the Swan Hills then flutter Eastward across the prairies tracking toward the lower end of the Great Lakes passing through Saskatoon and Winnipeg on their way ultimately to make life in Chicago miserable

The amount and degree of severity of these weather systems is completely reliant on the strength and cantankerous nature of the North Pacific. If the immense whirl pool of water between Japan and Alaska receives a high degree of difference between warm and cold currents the air above it reflects that instability and varying levels of water vapour is released into the atmosphere to return to earth in Manitoba, Minnesota and Wisconsin.