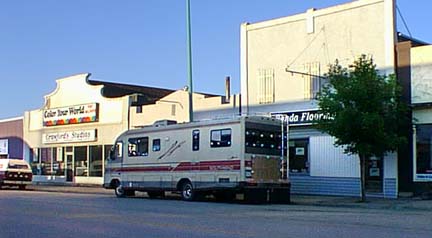 It was thirty-one years ago last night when my wife and I got married and as a part of our modest celebration we went to get some ice cream. This huge motor home was parked on the street near Crawford's studio as the wedding party were no doubt inside getting the wedding picture done that will document the event.

We were glad for the couple but also impressed at the mode of travel for their honeymoon. For most people the honeymoon is a very difficult adventure. Most of us have seen (if you haven't seen it rent it) Ricky and Lucy's "Long Long Trailer", which for me is the outstanding honeymoon movie of all time.

Judy and I took "eight-eyes" my 1963 Pontiac(which actually had eight head lights) and a huge walled canvas tent on our honeymoon and set it up in places like Birds Hill, Thunderbay, Toronto, New Holland Michigan, and Salem Illinois. One wonders at the adventures that await this couple, not only on their honeymoon but in the coming century. Will they be going for ice cream together thirty-one years from now? I sure hope so.