Is this the one to wrap up the season, or . . .
is this the opener of the season wrap up?
FTLComm - Tisdale - Friday, February 27, 2004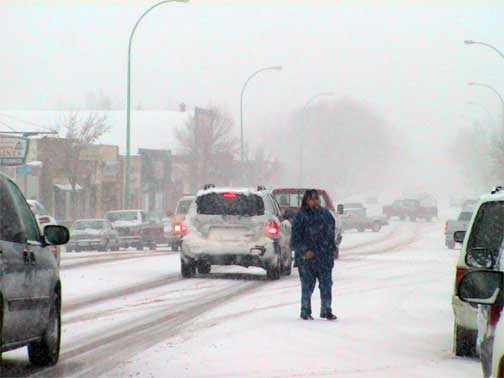 This scene on the right and below is the way it looked in downtown Tisdale today a few minutes after 4:00. A north wind was hustling the damp snow in from the North but a person could cope because the temperature was only -2º.

Environment Canada reported that this system will give us about 10cm now and another five tonight. So it all depends on how you look at it, if this is one of the last gasps of the winter then no problem but if it is one of the first of a series of last gasps then, well . . . heavy sigh. The dull five days that have just passed with fog, mist and low ceiling has dampened one's spirits so even this shot of snow is a welcomed relief.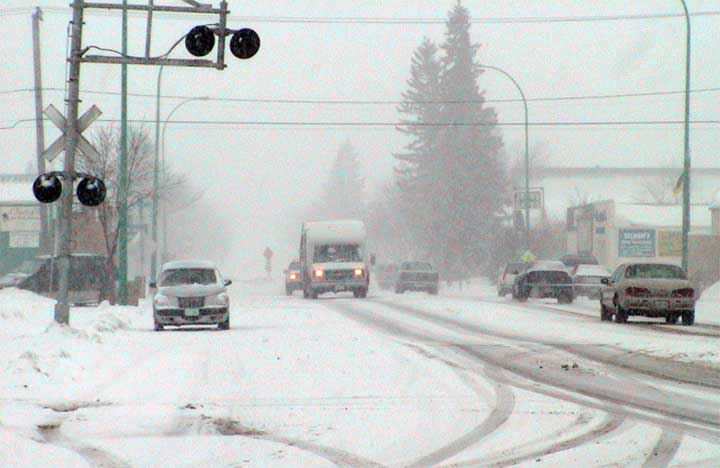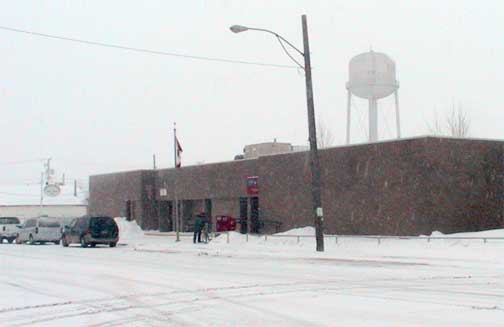 A man on a bicycle came by and went over to the post office (right) and when I was in the 7-11 a man with a baby in his car was filling the windshield washer tank as he was preparing to depart for the thirty-minute drive south to Archerwell. With a north wind and the shelter of the trees all the way he should have a safe trip.

The Department of Highways truck was out on #3 laying down salt at the intersections and throwing off the accumulation of fresh snow whis is pretty sticky stuff. The highways, both #35 and #3 are not icy, the only factor limiting travel is the visibility.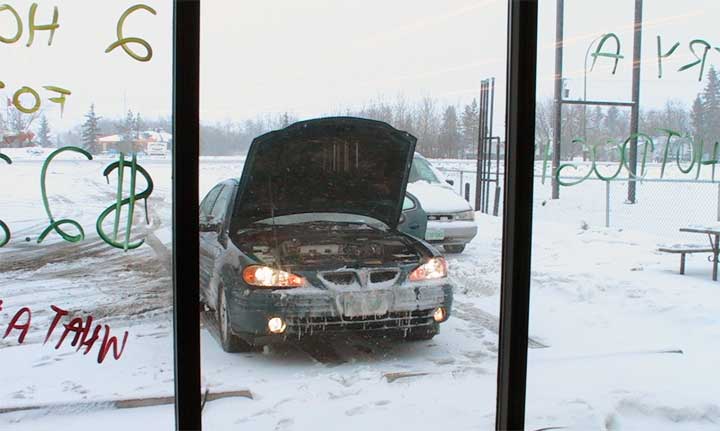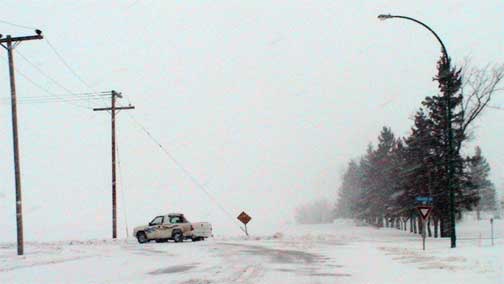 Just west of the hospital at 4:45 you can see in this picture, well more correctly it is what you can not see that tells the story as the world seems to fade out before the end of the Tisdale Cemetery.

The picture at the top of the page was taken at 5:00 as a fellow was out enjoying the fresh snow and slippery conditions on his ATV.

Below is the view from our driveway with MacKay tower only four blocks away simply not in the picture.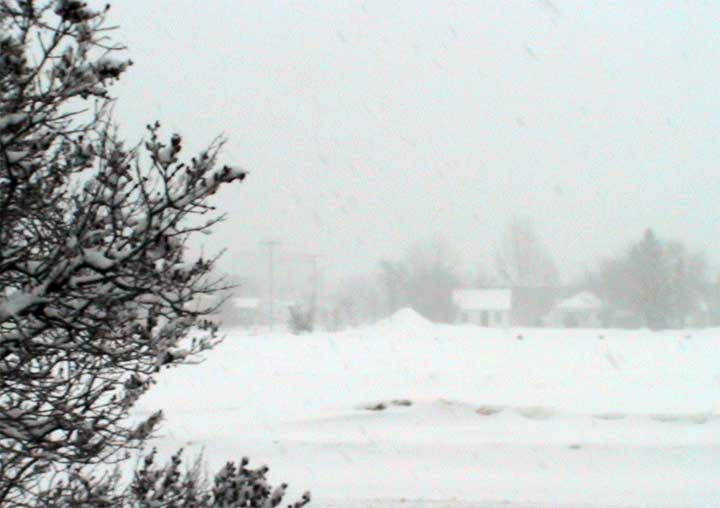 Return to Ensign - Return to Saskatchewan News
This page is a story posted on Ensign and/or Saskatchewan News, both of which are daily web sites offering a variety of material from scenic images, political commentary, information and news. These publications are the work of Faster Than Light Communications . If you would like to comment on this story or you wish to contact the editor of these sites please send us email.
Editor : Timothy W. Shire
Faster Than Light Communication
Box 1776, Tisdale, Saskatchewan, Canada, S0E 1T0
306 873 2004