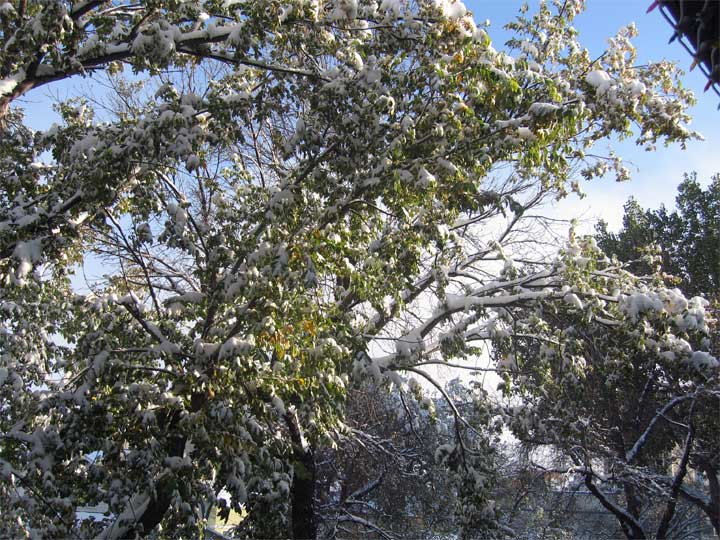 along Victoria Avenue one block west of Albert St. Sunday
Premature winter in Regina
FTLComm - Regina - Wednesday, October 13, 2008 Images by: R. W. Shire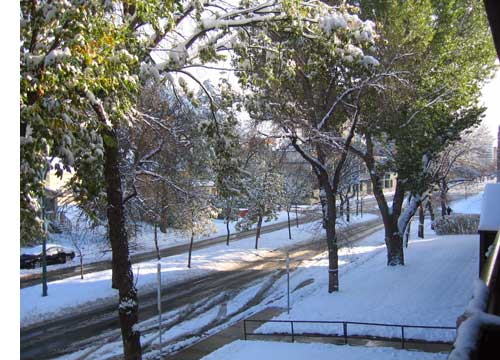 Sunday Regina and much of southern Saskatchewan received an ample cover of snow, a sort of pre-winter wake up call. Enviroment Canada blamed the snowfall on a system from Colorado but from these pictures taken by R. W. Shire from his balcony overlooking Victoria Avenue it looks like things to come.
The odd part about this snow fall is that Regina has still lots of leaves on its trees, some coloured and some still green so that clearly makes these images special and reminds you that you are not looking at a winter scene.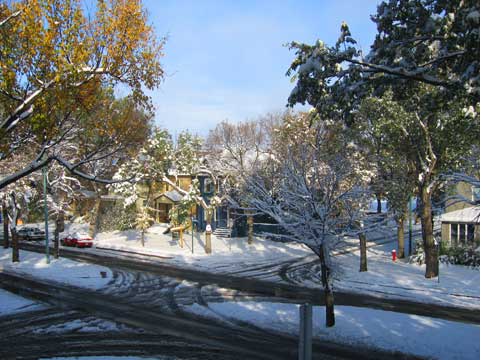 One of the tragic implications of this minor snow storm was the problems it created for people on the road on a Thanksgiving weekend. Even though we all get used to winter driving conditions when the come along like this one did there were a surprisingly high number of serious accidents.
Speaking of accidents, one of the ways you can reduce the chance of being in a winter crash is getting those all season tires on your car changed over to "winter tires" looks like the safest and smartest thing a driver can do.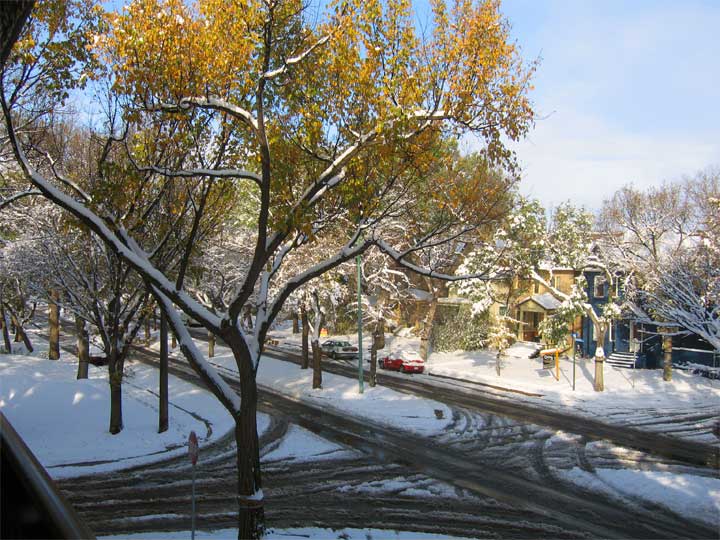 ---
Return to Ensign
This page is a story posted on Ensign, a daily web site offering a variety of material from scenic images, political commentary, information and news. This publication is the work of Faster Than Light Communications . If you would like to comment on this story or you wish to contact the editor of these sites please send us email.
Editor : Timothy W. Shire
Faster Than Light Communication
Box 1776, Tisdale, Saskatchewan, Canada, S0E 1T0
306 873 2004