Saturday's Sales
FTLComm - Tisdale - Monday, May 31, 2004

Though it was raining quite steadily Saturday there were still perhaps as many as ten garage sales around town. I visited a few and though it was raining there was not the nasty cold of weeks past and with each sale inside a garage there was time to visit.

One of the sales had these first two items with their very special signs.

One of the things that seem to be cropping up at a lot of garage sales this year are these stereo sets from the sixties and seventies. There were some at the church sales earlier this year and last weekend there were several. This one included a nice selection of records and good ole' Neil Diamond was singing his heart out. The owner had to turn down the volume so we could chat.

I remember when one of these was a feature of most living rooms. Just listening to this one and another at a sale in another part of town I realised how we have moved away from the round smooth sounds not only of the equipment of that era, but also of the music of that era. Those big speakers and their vacuum tube amplifiers churned out pleasant warm sound and that's something our world today seems to be missing. The ubiquitous ghetto blaster with its crisp treble and clear solid state sound matches the harsh clang of what passes for music today.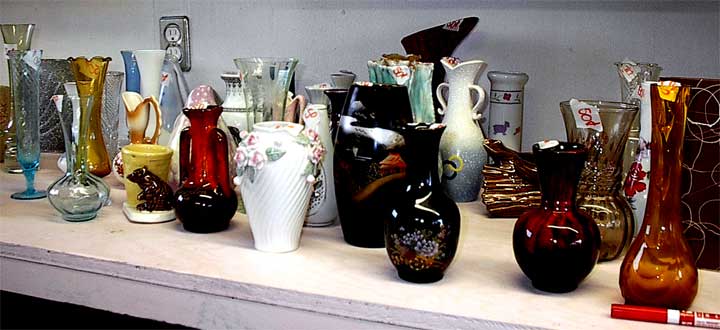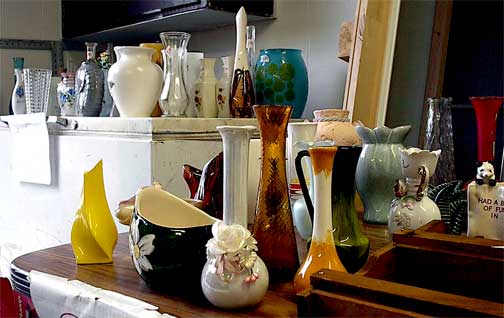 These three last pictures were taken at a garage sale that was still operating mid afternoon Saturday. The owner explained that for more than twenty years she had been collecting vases with a spousal promise of a some sort of display to come some time in the future. The display never materialised and the collection exceeds enjoyment so these vases were all for sale. Under each table and I have only shown three of the tables, there were more were boxes and boxes of more of these flower holders. I selected a brass one and was on my way.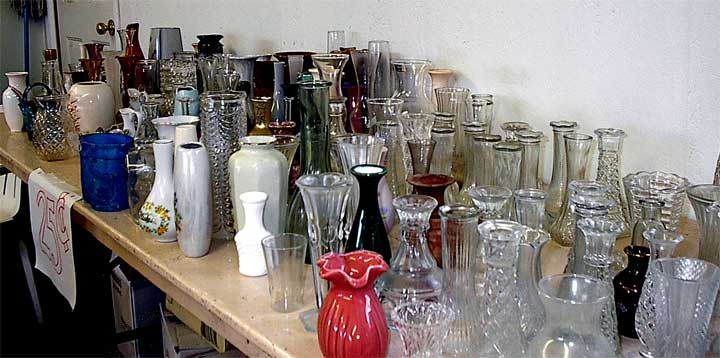 Return to Ensign - Return to Saskatchewan News
This page is a story posted on Ensign and/or Saskatchewan News, both of which are daily web sites offering a variety of material from scenic images, political commentary, information and news. These publications are the work of Faster Than Light Communications . If you would like to comment on this story or you wish to contact the editor of these sites please send us e-mail.
Editor : Timothy W. Shire
Faster Than Light Communication
Box 1776, Tisdale, Saskatchewan, Canada, S0E 1T0
306 873 2004