It was Sunday afternoon when I spotted huge flock of Bohemian Waxwings visiting Tisdale this week and on Monday wrote the story about them and showed you some pictures. Then yesterday I showed you them in another neighbourhood sitting in the trees and on house tops.

Yesterday afternoon at about 4:30 I set out to get the mail and as I left the door I thought it would be a good time to sweep off the accumulated snow from the steps and stairs. I was surprised to discover these orange holes in the snow just on the steps, and driveway then I noticed the van.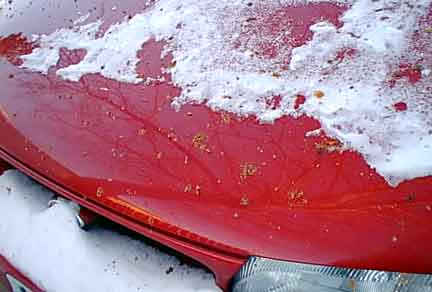 Completely decorated on all upper surfaces with what appeared to be skins and seeds from berries. No where else in the yard, neighbour's yards or anywhere that I could see other then under the huge poplar tree this massive pattern of orange splatters. A quick look in the back yard revealed that there had been considerable activity around the berry bush. Apparently what had happened, the Waxwings visited the back yard, settled into the poplar tree to savour their feast and the natural course of events resulted in the distribution of waste on the steps and van.

Now the likelihood of the Waxwings knowing of the two stories about them is very low, but they would have seen the van when they were being photographed, but had I made this up, you would not have accepted it, only the truth and the appalling mess on my van is testimony to this amazing event.