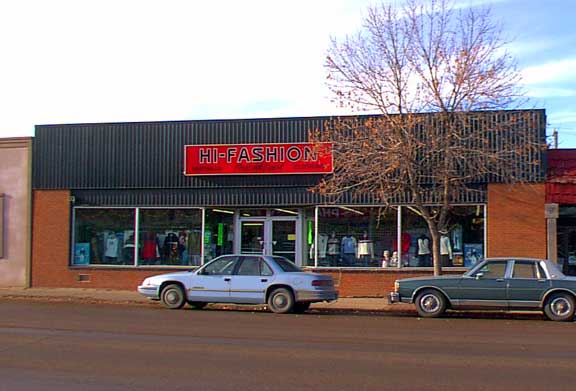 Hi-Fashion
FTLComm - Tisdale - Friday, November 29, 2002
A couple of days ago we took a look at Christmas shopping right in your own home town and today we take a look at a couple more businesses that offer products you can't find at Wally's. (La Croix Drugs)

Hi-Fashion is jammed with a huge stock of outstanding clothing values from sports and casual wear to specialty clothing like Western wear.

Since great clothes can be found in lots of Tisdale stores the two pictures that illustrate Hi-Fashion's huge line of western wear are this picture of western boots and below the hat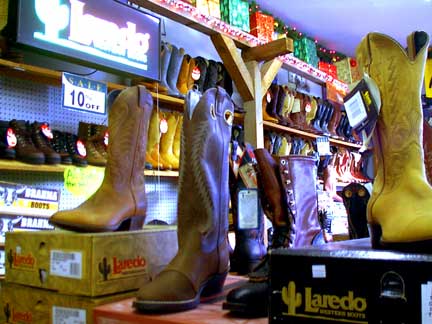 display.

But its not our job to show you the details a store like this one needs to be investigated.

Clothing makes outstanding sense as a Christmas gift and you really want to find something that suits the person you are buying that gift for. For me the biggest thing is having a lot of choices to pick from and a good range in price so that I can look at inexpensive and expensive and select something that is appropriate for my budget and for the person receiving the gift.

You really have to think carefully about gift giving because really expensive items are usually not a good choice. You will put a value emotionally on the gift matching its cost and that really messes up the whole idea of giving something a gift. As for receiving a gift a really expensive thing makes for imbalance and just isn't fair.

But, getting back to Hi-Fashion in downtown Tisdale the selection of sweaters, coats, nifty outfits of all kinds are on the racks and shelves in a store that really has a huge inventory for a community this size.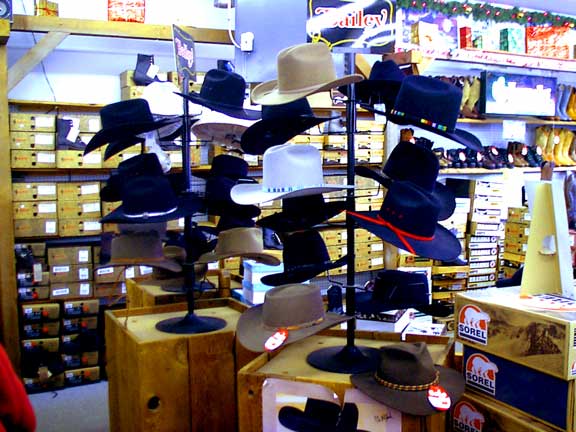 ---
Return to Ensign - Return to Saskatchewan News
This page is a story posted on Ensign and/or Saskatchewan News, both of which are daily web sites offering a variety of material from scenic images, political commentary, information and news. These publications are the work of Faster Than Light Communications . If you would like to comment on this story or you wish to contact the editor of these sites please send us email.
Editor : Timothy W. Shire
Faster Than Light Communication
Box 1776, Tisdale, Saskatchewan, Canada, S0E 1T0
306 873 2004