The parking lot was full Wednesday at 6:00 when I dropped in to Mr. Ribs. Two tables were all that were available and after a couple of minutes and a lady telling me she would be right with me, twice, I was seated.

Clearly, Tisdale people are pleased to have a new restaurant open and as I waited I could see that the new surroundings inside the building are a great improvement. New chairs, the bench booths have been redone and nice table finishes. The ceiling is now a dark blue with indigo colour hanging lights. The oak paneling around the dining area is very warm. I was puzzled by the Navaho design on the bench patterns which seemed to contrast with the flower border, but then the colours are . . well . . "close".

The waitress brought me a menu and I have to say, it is definitely up scale pricing. Pizza, entrees, all seemed pretty expensive.

I wanted a light supper and decided upon the lowest priced item on the menu, a club sandwich, $8.95. Now that's a lot for a club but this one was to include soup and a salad on the plate with house dressing. I had exceeded my daily caffeine limit so all I had to drink was water.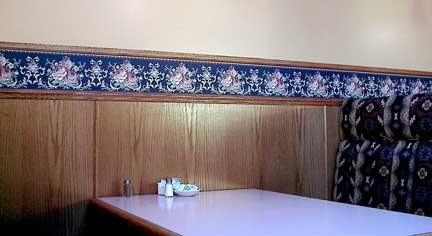 Now evaluating a meal is a tricky thing, let's face it, I ordered the lowest price item on the menu and I wonder if I should judge a place by this decision. However, it is the decision I made so it looks like I will go with that.

The water was fine but luke warm, no ice. Okay that's -1.

The soup came, it was a chicken noodle/vegetable soup. The flavour was fine, it was a nice chicken broth and there were a few pieces of chicken, the serving size perhaps related to the small priced meal was about a cup. I think we would have to consider the chicken soup so - so, not fabulous but adequate. But, no crackers. Now I suppose one doesn't need crackers, I rather like crackers with soup, I am not a cruncher who dumps powdered crackers into my soup, but I like to nibble on them as I eat the soup, in this case, no nibbling. Okay that's -2.

The service was prompt and fine. My club sandwich came and to my surprise included fries. Now I had gone over the menu pretty carefully and there was no mention of fries, with the mention of the soup, or at the bottom of the sandwiches. I asked the waitress about the fries and she said it came with all sandwiches.

Included or not, I don't want or need fries. Now I have to explain this but it is important. I love fries, but my intake of food and the amount of fat and sugars has to be really tight and fries, no matter how many are to many. I can see right away you are wondering why that's a problem, just show some discipline and don't eat the fries, right. Sorry folks, that is not possible. As a kid it was absolutely imperative that food was never, not ever to be wasted. My mom knew about starvation and when she said there were children starving in India, she meant it and if you were given food, it was not an option. Wasting food is wrong, so when I am served fries in a restaurant, if I leave them on my plate they will be wasted, sorry, that is not to be done. So I always make sure I am not receiving something I should not eat. For me it is a morale issue. Okay that's -3.

The club was pleasant, crisp bacon, made correctly with three slices of bread though no spear. The salad and its "house dressing" was a runny mess, wet, perhaps best described as soggy, it was a chore to clean up, but remember, there are children going to bed hungry in India. The fluid salad was the last thing on the plate to be eaten.

In general the menu is a pretty fat menu, there are lots of choices but my $8.95 club is the lowest priced meal on the list other than the seniors menu which included several entries at $7.95.

The bottom line. If you are going to spend more than $10 on a meal don't go to Mr. Ribs and load up on fat and fries you don't and shouldn't eat. Sweet Aroma is a healthier and far nicer place, better everything, the menu is better, the meal presentation is outstanding and you will get cold water, crackers with your soup and no unordered fries.
Return to Ensign - Return to Saskatchewan News
This page is a story posted on Ensign and/or Saskatchewan News, both of which are daily web sites offering a variety of material from scenic images, political commentary, information and news. These publications are the work of Faster Than Light Communications . If you would like to comment on this story or you wish to contact the editor of these sites please send us email.
Editor : Timothy W. Shire
Faster Than Light Communication
Box 1776, Tisdale, Saskatchewan, Canada, S0E 1T0
306 873 2004