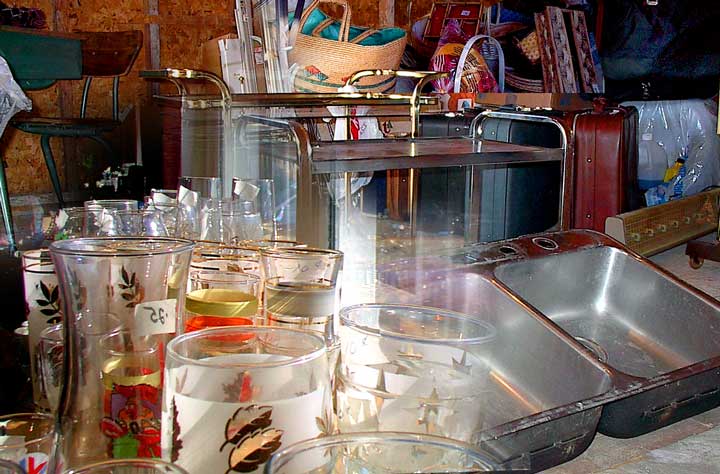 St. Matthew's annual spring sale & more
FTLComm - Tisdale - Thursday, May 1, 2003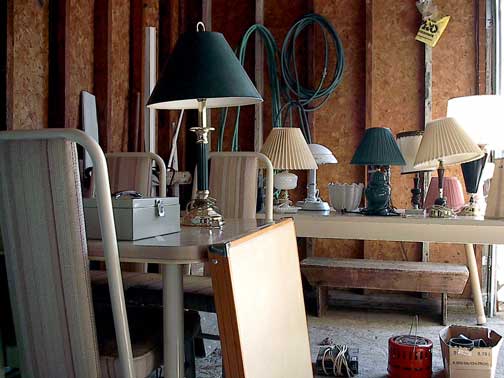 This is definitely bargain weekend with three sales starting today and carrying on until Saturday and a host of Rummage and garage sales scheduled for this weekend.

Each year (2000, 2001, 2002)we have had pictures of St. Matthew's Anglican Church sale on this web site and each year it has attracted a great number of shoppers. I arrived about ten minutes after nine this morning and below you can see the number of folks busily shopping at the best sale in years. This sale is about twice the size in numbers of items compared to other years and once again the bargains to be found were outstanding.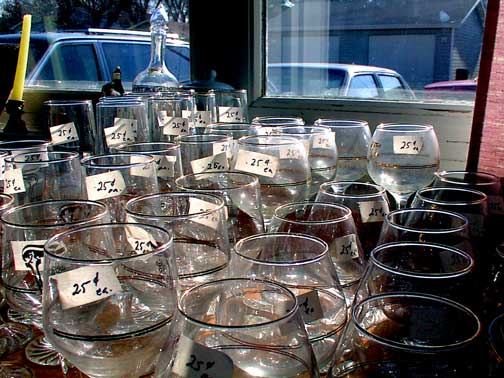 The garage is often just some large items but this year the garage was the overflow with excellent furniture a huge book and record collection and as you can see in the second picture on the page a lot of interesting items.

Two families had most of their household goods in this sale and one lady told me she had brought a pickup and a car full.

Since this sale is on for three days you can expect to still find some great items available Saturday.

Though the small glassware and ornaments make great pictures there were three or four complete sets of china boxed and in perfect condition.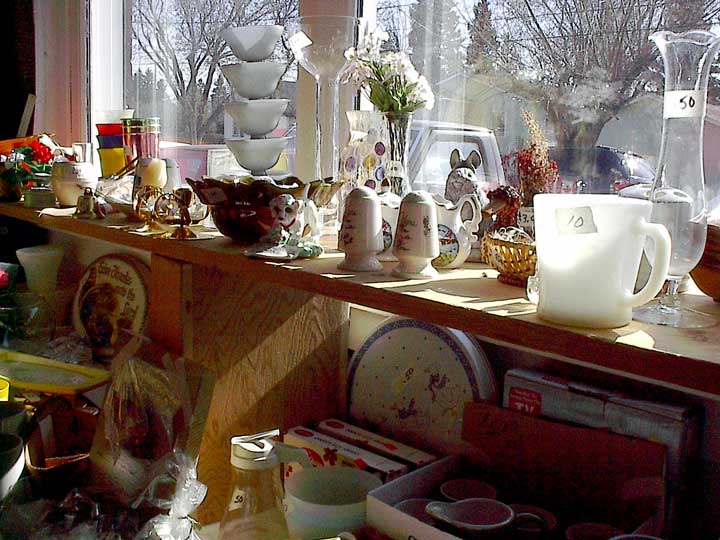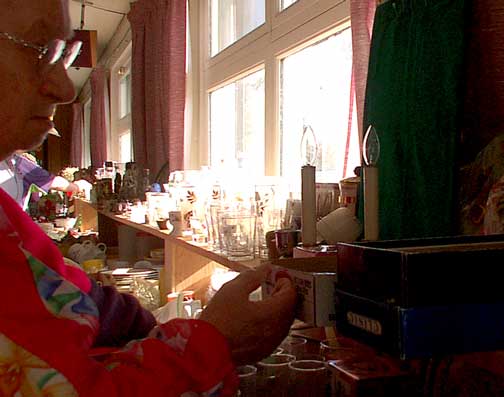 As usual this sale included a large number of bedding plants and a host of toys.

I dived into the book section and came up with a startling bird book, an excellent find. As you look over these pictures you will discover one shopper with her arms loaded with books.

It is impossible to show all the great things that a sale like this one has but for those who want to take the time and look through the extremely high quality clothing there is just about everything in clothing you can think of from a leather hat to a huge box of socks.

The children's clothing at this sale, as others in the past is really a way of making a family budget stretch.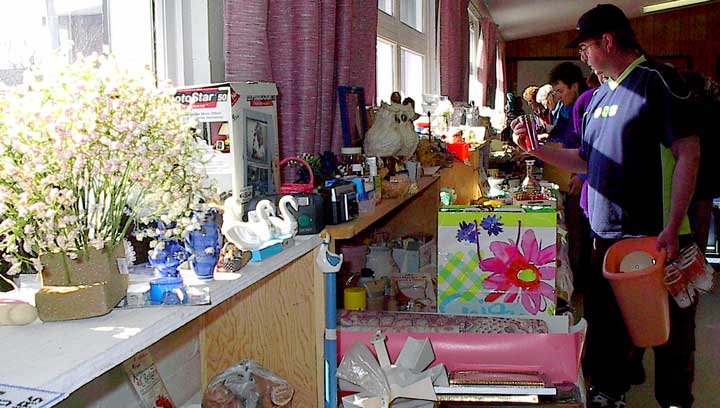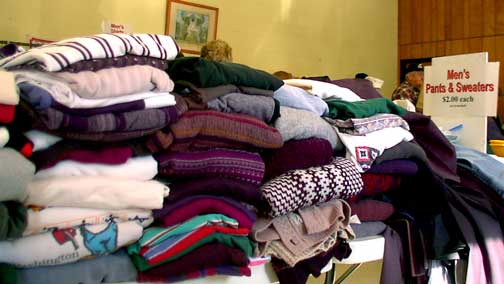 This is just a peek at the stacks of sweaters. In the main lobby of the church it was shoulder to shoulder with racks of clothing that appeared to have had little wear.

Speaking of shoulder to shoulder this morning's shoppers were a determined bunch and I received more than one clean check. Then there was the lady that hammered on me to get a box for her from a pile while I was lingering at the coffee counter.

The picture below is a composite of the same scene reversed.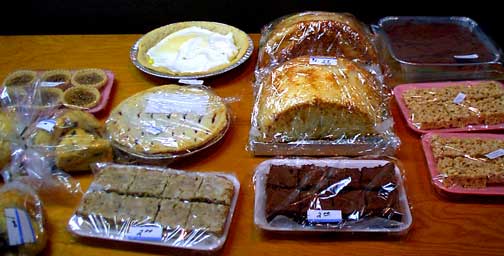 Across the street in Cedar Villa is another sale. much smaller and different but when I came in I spotted a great lamp planning to buy it on the way out. Took to long the lamp left ahead of me. The baked goods at this sale were the sort of thing that Gerald Crawford and I can not afford even to look at.

Now over by the RECPlex at Heritage park is another sale, also on until Saturday and it is really a remarkable sale of hand crafted goods. Afghans and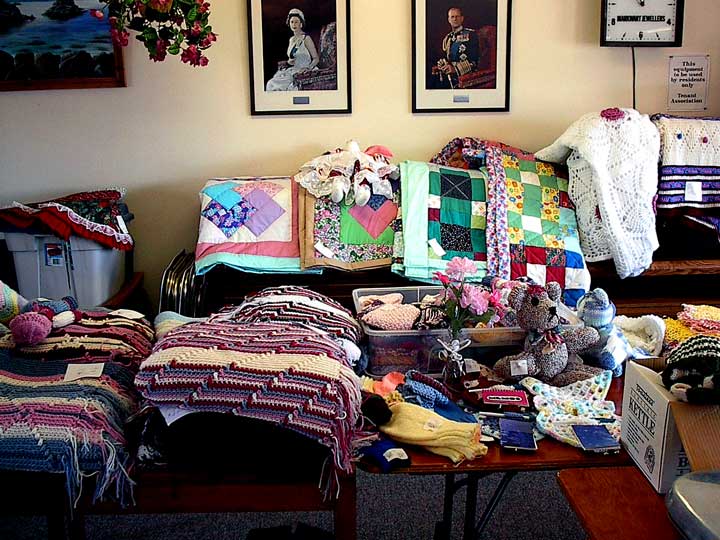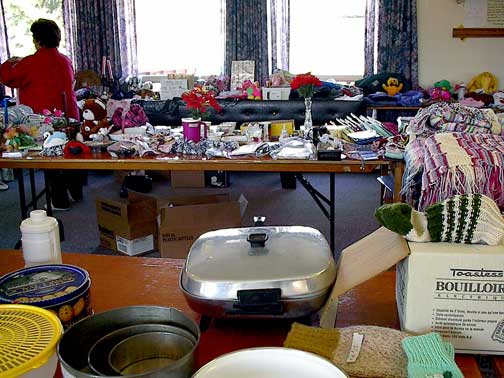 quilts with all sorts of special items like the sock dolls. This is really only a rummage sale in name only as it has so many super hand made products that are brand new and perfect gift items.

But, there are some other interesting things and among them are some outstanding library collections of paperback books, most of them classics.

In the picture below almost dead centre in the image you can see two large historical photographs. On taken in Saskatoon in 1926 of an excursion train to Watrous and the other a panorama convention picture taken in 1921. These are amazing pictures and the details in them left me gasping.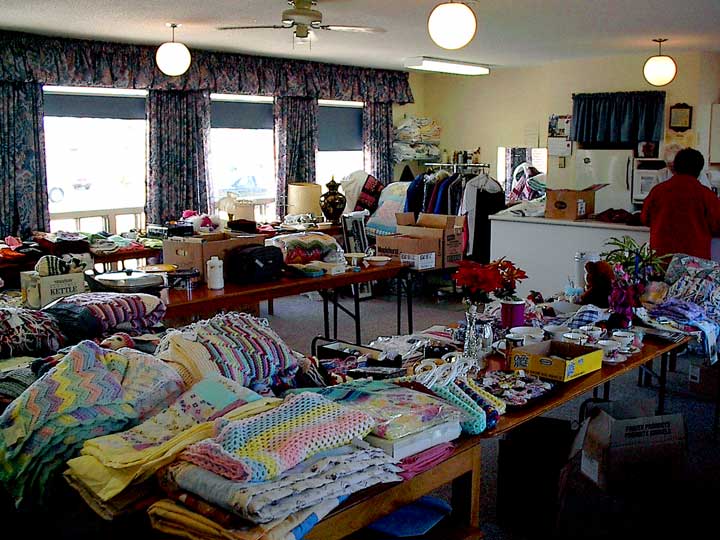 ---
Return to Ensign - Return to Saskatchewan News
This page is a story posted on Ensign and/or Saskatchewan News, both of which are daily web sites offering a variety of material from scenic images, political commentary, information and news. These publications are the work of Faster Than Light Communications . If you would like to comment on this story or you wish to contact the editor of these sites please send us email.
Editor : Timothy W. Shire
Faster Than Light Communication
Box 1776, Tisdale, Saskatchewan, Canada, S0E 1T0
306 873 2004