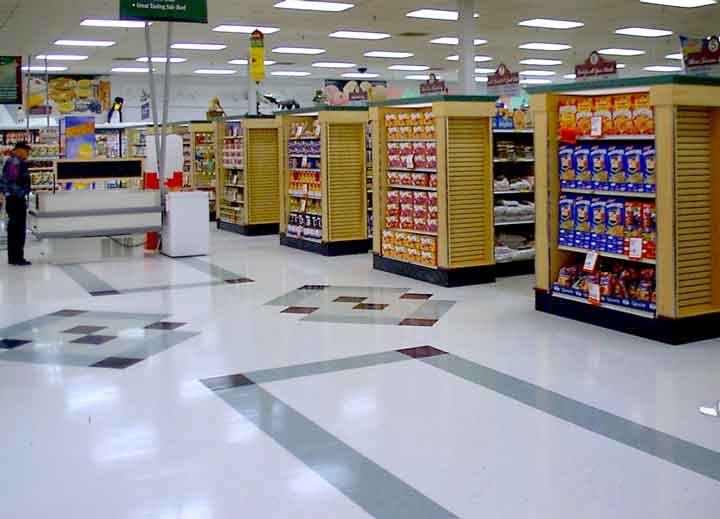 Finished at end of the month
FTLComm - Tisdale - Tuesday, February 11, 2003
A few days ago we showed you the new floor covering being installed in the Beeland Co-op in Tisdale. The floor renewal is part of a general overhaul that has been underway for the past month.
It was explained to me that that the reorganisation at this time is a modest re-organising project to create a little more space in the grocery department. Moving the cookies, softdrinks, chips, cards and magazines and reducing the size of the pharmacutial area has given more space and today the bakery display area moves another four feet North.
During the night in the early hours of Thursday morning the new ends were installed on each of the grocery islands.
Only some of the planned floor replacement has been carried out as some special no-slip tiles were unavailable last week. However as you can see above and below those areas with the new floor covering look pretty good.
All in all the project is rapidly coming to an end and by the end of February things will be pretty much finished. However, though nothing specific has been discussed it is clear that the Beeland Co-op and its continued success and sales growth are pushing the member owned operation to consider expansion and changes to meet the needs of its loyal and solid customer base.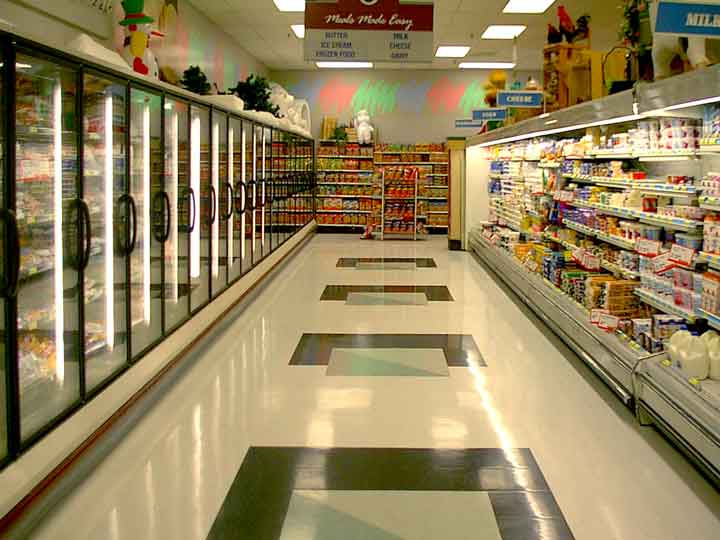 ---
Return to Ensign - Return to Saskatchewan News
This page is a story posted on Ensign and/or Saskatchewan News, both of which are daily web sites offering a variety of material from scenic images, political commentary, information and news. These publications are the work of Faster Than Light Communications . If you would like to comment on this story or you wish to contact the editor of these sites please send us email.
Editor : Timothy W. Shire
Faster Than Light Communication
Box 1776, Tisdale, Saskatchewan, Canada, S0E 1T0
306 873 2004