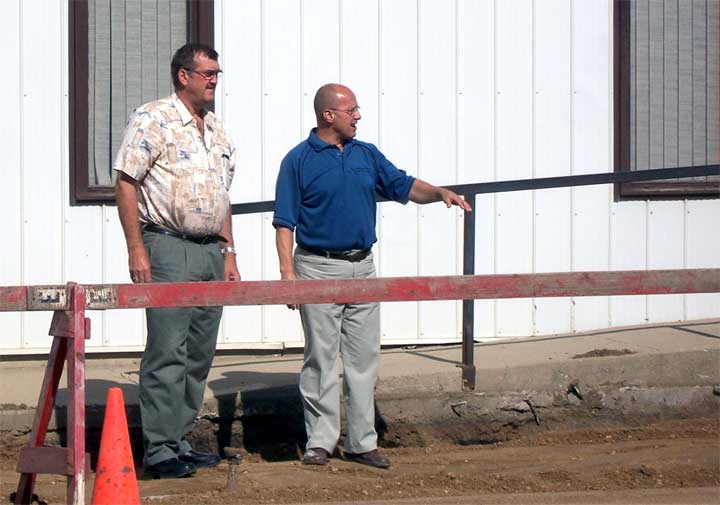 Phase 4 in high gear
FTLComm - Tisdale - Thursday, April 19, 2007
The pace has been frantic as the downtown enhancement of the 800 block has been running in high gear. On Tuesday we showed you the old sidewalk being removed. On the right and below was the scene Wednesday as the sand was being filled in on the east side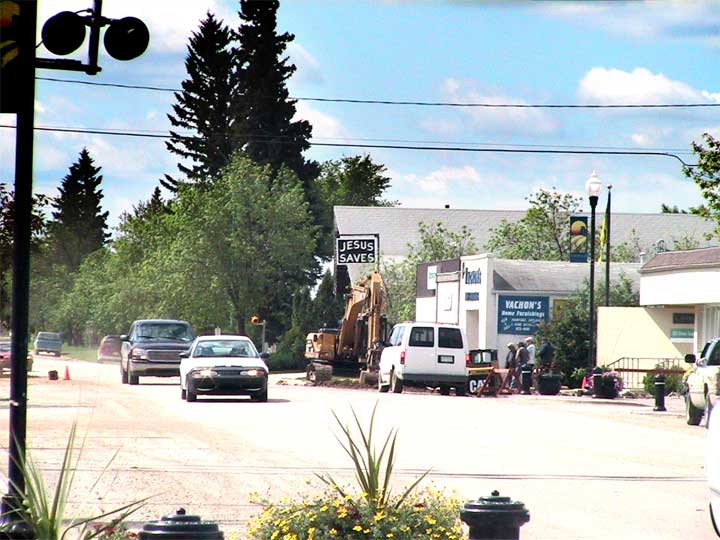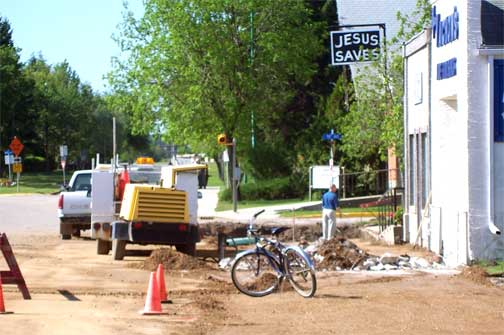 and on the west side (above) the sidewalk was just being removed. The rest of these pictures were taken Thursday as the various details had to be worked out on both sides of the street.
Unlike in the past years were the curbing was done using forms and a large work force, this year a curbing machine is doing the job so that by the end of Thursday the curb was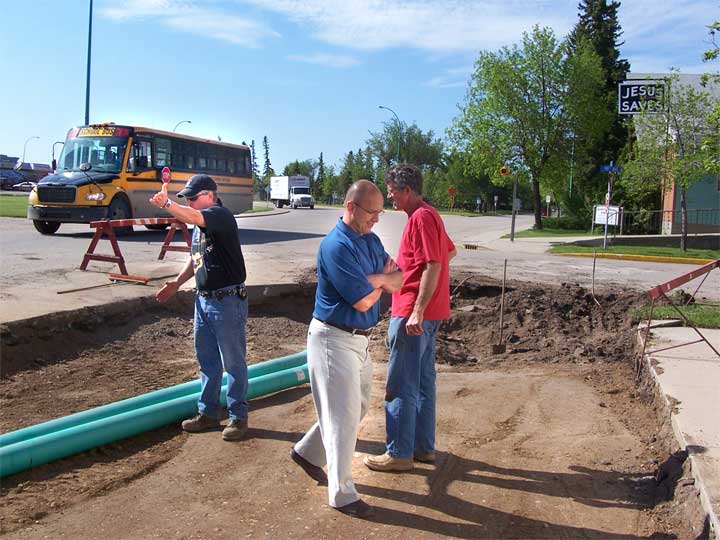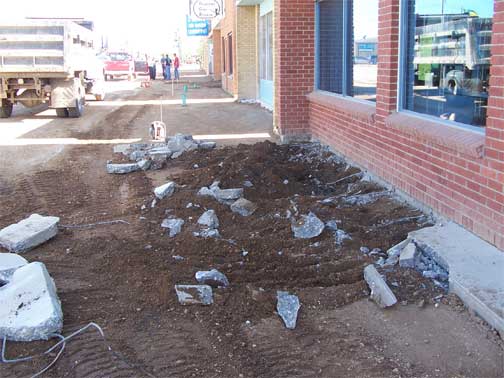 in place.
The sidewalk has been removed from the curved portion of the street that stretches from Tisdale Glass to Chicken Delight. This area is scheduled to have a landscaped walkway but that will not come this year as the work will be confined to installation of the streetlight standards that will lead downtown.
It is remarkable how the project is so coordinated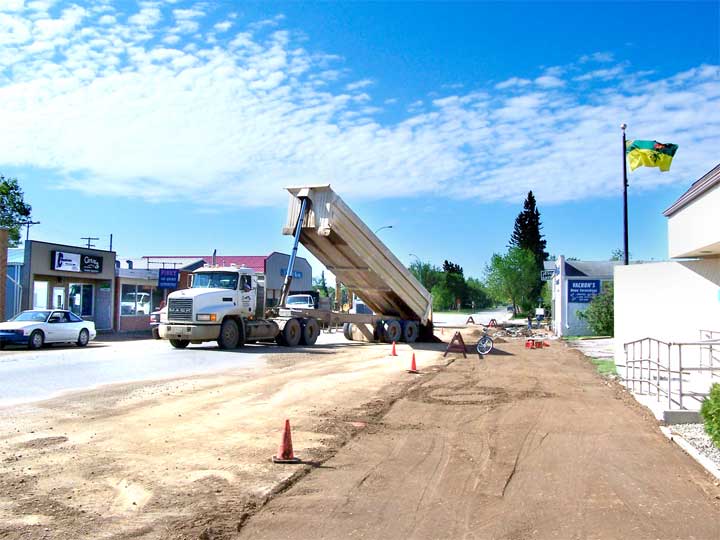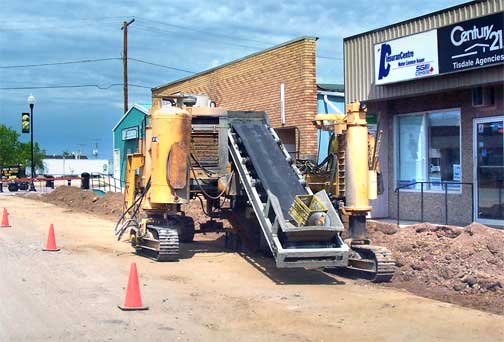 this year with the town crew, contractors and craftsmen working together to get the job done in the shortest period of time and with the least disruption to the flow of traffic on the busy street which is of course also highway 35.
On the right is the curbing machine and below you can see the finished curb in place (Friday) and the gutter area being laid.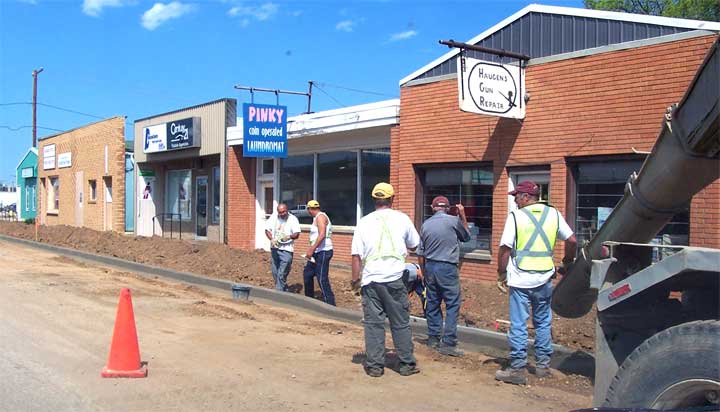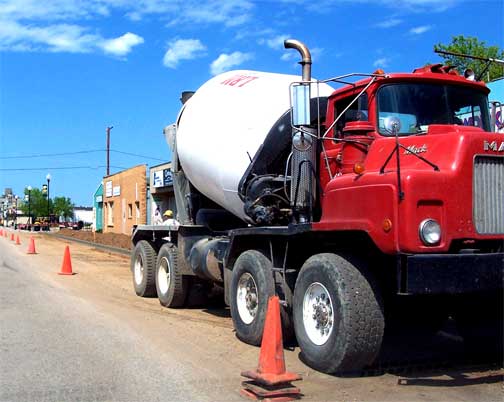 There is doubt that in the coming week we will see the bricks being laid and I expect to see the light standards in place by this time seven days from now.
Initially, most Tisdale folks were a bit skeptical about the whole project, but the proof is in the final product, as we see people making use of the downtown area and all in all. It just a more friendlier and attractive place to stroll and visit with friends and neighbours.
---
Return to Ensign
This page is a story posted on Ensign, a daily web site offering a variety of material from scenic images, political commentary, information and news. This publication is the work of Faster Than Light Communications . If you would like to comment on this story or you wish to contact the editor of these sites please send us email.
Editor : Timothy W. Shire
Faster Than Light Communication
Box 1776, Tisdale, Saskatchewan, Canada, S0E 1T0
306 873 2004