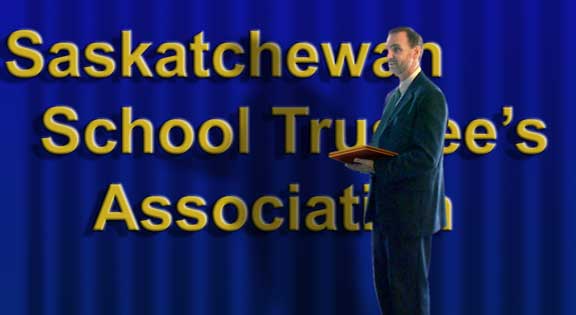 Tisdale School Division Presented with Premier's Award
FTLComm - Regina - Wednesday, November 20, 2002
During the opening ceremonies of this year's Saskatchewan School Trustee's Association Convention in Regina on Monday, Tisdale School Division was presented with the Premier's Board of Education Award for Innovation and Excellence in Education which includes a cheque for $5,000.
In the press release from the Tisdale Board they point out:
The purpose of the award is to recognize and celebrate board of education involvement in the improvement of learning opportunities for Saskatchewan children and youth. The Tisdale School Division has received increasing attention due to the board's commitment to make School plus programs an integral part of the overall community development strategy in Tisdale School Division communities and in effect to expand School plus (which is Saskatchewan Learning's number one priority this year) to Community plus.
Tisdale's School Board has backed the whole concept of inclusion that has been a part of all of the work of Director Tim Tarala in the five years he has been here in Tisdale. In his presentations at the opening of the new TMSS welding facility and the signing ceremony for the downtown student support centre Mr. Tarala voiced the solid commitment of the Tisdale School Board to building the kind of collaborative and cooperative efforts between business, other agencies and the community at large.
Tuesday morning at the convention the video Classroom Community Connections, developed by the Division, was shown to the delegates from across the province that has as its main theme the way the School Division has been able to successfully expand and continue programming by working with the agencies, arms of government and the various community service organisations in the Division.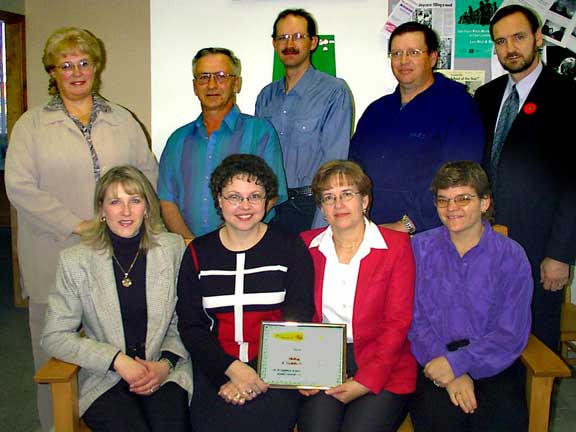 If you want to move a mountain it is always a good idea to get some help and this has been the basic concept that has lead Tisdale School Division to be recognised for this award. The Board has given their staff support and the principals and staff of each school have been able to count on the continued acceptance of new ideas and positive relationships. Val Hvidston the system's Superintendent of Business has been able to provide the kind of support and encouragement that gives the system the feeling that it can move mountains.
Congratulations Tisdale School Division
---
Return to Ensign - Return to Saskatchewan News
This page is a story posted on Ensign and/or Saskatchewan News, both of which are daily web sites offering a variety of material from scenic images, political commentary, information and news. These publications are the work of Faster Than Light Communications . If you would like to comment on this story or you wish to contact the editor of these sites please send us email.
Editor : Timothy W. Shire
Faster Than Light Communication
Box 1776, Tisdale, Saskatchewan, Canada, S0E 1T0
306 873 2004