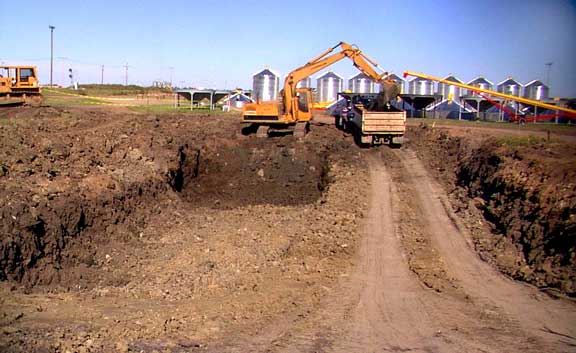 Beeland Co-op Strip Mine
FTLComm - Tisdale - Monday, June 4, 2001
Originally when this project began a week ago today Pinter & Associates Engineer Konlin Stolz was confident that it would take at least a week to dig up the contaminated soil beneath the street and the site of the former Co-op bulk station. Today the project is a very large growing hole.

With dump trucks running continously the excavation just keeps on going as the soil which strongly smells of petroleum products is being hauled to the dump. The tangle of pipe below is only some of the material that has been taken from the ground.

No one is speculating just how much larger the excavation will become but it appears that the amount of fuel lost must have been a fair amount but the clay material may be playing a part in having spread the polution rather then allowing it to perk downward toward a lower water table. These pictures were taken at just after 8:00AM this morning.