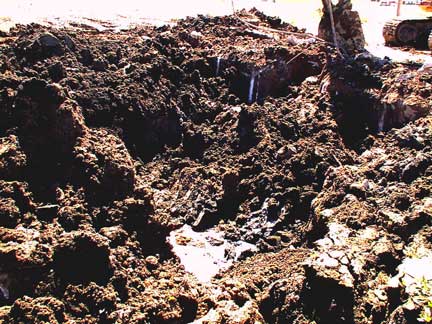 The second pollution cleanup was begun this morning (the first project was the clean up of the former Beeland Co-op bulk plant) as the town has undertaken the clean up of the former GT Mechanical site that was burned two years ago. The property was a service station and automotive repair business for decades and the soil beneath is seriously contaminated preventing the site from being developed into a commercial property.

For the past year the remains of the concrete floors have been used by young people for skate boarding but today the concrete and the soil beneath it is coming up.

It was surprising to see the huge amount of moisture in the soil as digging began on the site and the stench of used oil and hydrocarbons was very conspicuous when I went over to the site to get this picture.

Grants are now available to assist in clean up projects like this one and the town should recover most of the $25,000 costs it will incur from these grants while at the same time turning a valuable location into prime real estate and an ideal place to locate a business.