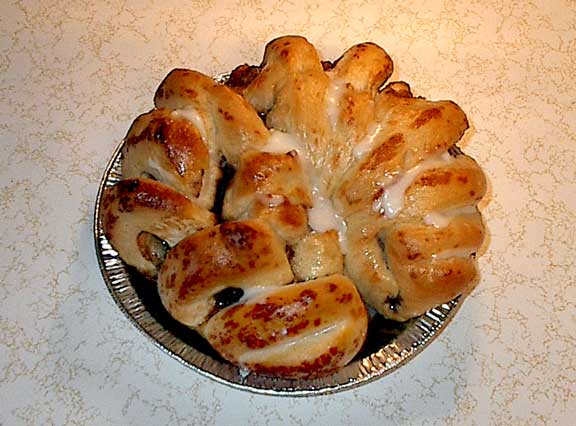 Christmas baking
FTLComm - Tisdale - Monday, December 15, 2003
For the most part our society seems to find less and less time for the things that really matter. That's why during the Christmas season each year families are drawn back to a simpler time and rediscover the fun and simplicity of putting little masterpieces together in the kitchen. Many families have their own Christmas traditions like my sister who would get a competition going to make the best shortbread. I can recall my mother's pride in producing the very best dark fruit cake and Christmas pudding that our whole family still recreate each year.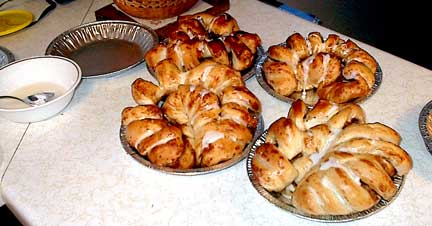 This year perhaps you might like to take a crack at doing a really simple but absolutely cheerful version of the cinnimon bun. The good old sticky cinnimon bun dries out quickly and can be a little tricky for time in the oven and getting the cooking process just right.

I have a great little bun recipe or you can use one that works for you, in this example we used the regular bun recipe we use all the time with just a tad more sugar.

The bun doe was allowed to rise and then was kneeded and about the amount equal to two small fists cut off and rolled out into an inch thick by about the size of a plate ovale. A liberal coating of margerine applied to the little bread platter, then a nice later of brown sugar and a dusting of cinnimon. Then the ovale was rolled into a tube and pinched closed and fitted into an aluminium pie plate. The doe was then sliced and pulled apart just a bit and set in the oven to cook.

Once out of the oven some margarine painted over each one and then some white icing drippled into the cracks. A simple bread dish but one that will make you the kitchen star of the year.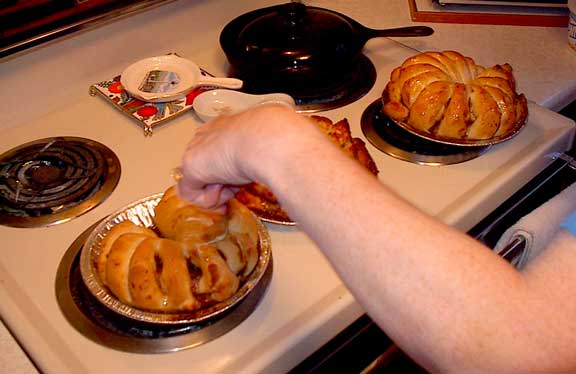 ---
Return to Ensign - Return to Saskatchewan News
This page is a story posted on Ensign and/or Saskatchewan News, both of which are daily web sites offering a variety of material from scenic images, political commentary, information and news. These publications are the work of Faster Than Light Communications . If you would like to comment on this story or you wish to contact the editor of these sites please send us email.
Editor : Timothy W. Shire
Faster Than Light Communication
Box 1776, Tisdale, Saskatchewan, Canada, S0E 1T0
306 873 2004