May 18th, 2009: When we got up Thursday morning, it was snowing quite seriously. It did that off and on all day, with a high wind, and the temperature never got above about +2°. We were planning to go to Craik Regional Park for our campout, but settled for loading the motor home and making sure the furnace worked.
Next morning, there was snow on the ground and on the windshield, but at least it was sunny. It never did get very warm, but at Craik we were able to sit in the shelter from the wind so had a real good visit with the other Sunseeker members.
Saturday and Sunday were great summery days, in fact there were a few sunburns amongst our group. Most of us spent pretty well the whole day outside. According to the thermometer in our rig, it got up to over 27°C Sunday afternoon but cooled off nicely in the evening. During the night, the furnace ran often and by this morning it was down to about 4°C, with a nasty wind. Very cold on the hands winding up the power cord and water hose.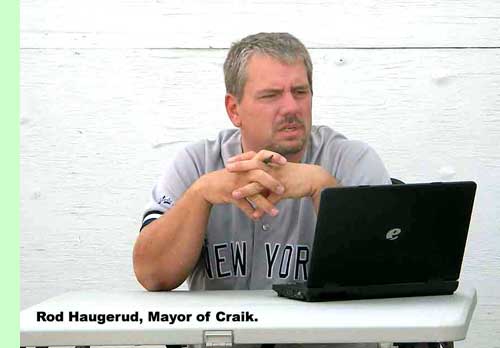 Rod Haugerud, mayor of Craik, joined us for supper on Saturday and gave us a talk on how Craik managed to grow while other small towns were dying away. A lot of it had to do with eco-friendliness, the Eco-Centre being the beginning and on-going core of the movement. Built with straw bales, and timbers from a demolished elevator, it is pretty well self sufficient, with solar power, both passive and active, and a closed water and disposal system. There are several other buildings being built on the theme – a school, a studio building, and residences – in the Craik Eco-Village. We drove over there after supper on Sunday, and were given a tour of a huge octagonal residence being built of post-and-beam and straw bales.
Blaine and I had an interesting visit last week. A friend of his is a retired mechanic and helps his stepson run a salvage business. He also likes old cars; while his regular car is a fairly new Taurus, he may tour the United States with a 1952 Ford half-ton that purrs like a kitten and looks like a dream. Or he and his girl friend, may go to Irricana for supper, driving a 1927 Model T Ford touring car. When Sandy and Blaine first met them, they were driving a 1957 Olds Super 88, with every option you could think of including automatic headlight dimming.
The Model T was built by him with parts; all he had to start with was a frame. It has wire spoke wheels which surprised me – I thought all Model Ts had wooden spokes, but Dennis says the 1927 models had wire spokes. He took us for a ride in it and what a thrill that was. I hadn't been in a Model T since 1948. Something different about his Model T: they came out with a two-speed transmission, low and high (some say slow and damn slow) but he had added an auxiliary transmission with three speeds and reverse. Biggest advantage to that was that with the auxiliary in reverse, and the main in reverse, he could move ahead in a parade at a very low speed without burning out the bands.
He had a shed full of Model T parts. He also had a shed full of radiators, a couple more with dozens and dozens of engines, from modern to a 1923 Knight six-cylinder engine from a fire truck. It had no valves, but two sleeves in each cylinder that opened and closed ports for intake and exhaust. It had two crankshafts but no camshaft.
He could fix anything, and if it needed welding he could do that too, but computers leave him cold. I was quite pleased to be able to show him how to download the pictures from his palmcorder into his computer. What a great visit!
An e-mail from Kelly Rusteika, who bought our cottage at Greenwater, says he heard from Donn Clark that the ice on Greenwater Lake went out on Thursday, May 7th. I was just about to start phoning around to see if I could find out the date; now I don't have to. Thanks, Kelly and Donn. Last year, it was May 8th; the year before that, May 2nd.