Editor's note: Last year in the spring I took some images of two of the remaining buildings in Leacross a community that is located about twelve miles north of Tisdale. A week after the story was posted I received the following e-mail but it was not until last Friday that I was back into that area and took these three images.
I grew up in that store ,yes it was a general store. There was also the hardware store and gas pumps out front. It had a post office ,too.
Mr.and Mrs Ted Fisher sold it to us "the hutchisons" back in 1960. Mrs.Fisher was a teacher and librarian at TUCs for many years.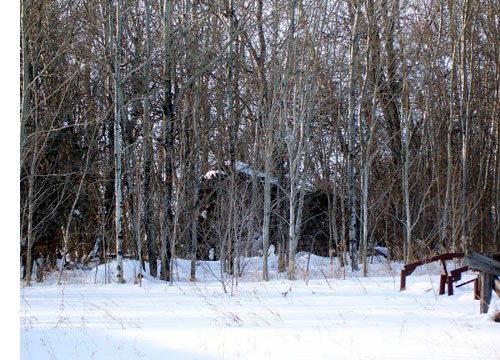 There was a community hall, curling rink ,church,school,and several homes. The other building (below) in the picture I believe is the old honey house owned by Keays. It use to be a high school at one time then was converted to the (as we called it) the honey place.
The Leacross school was closed in 1968 or 1967 I think . We were then all bussed into Tisdale.
The majority of the people who lived there are still around the Tisdale area. Mrs.Reese who just died in January (2009) at the age of 93, still lived there.
Right across from the honey house was the elevator next to the tracks .I would imagine that is has long since been torn down or moved. Directly across from the store use to be the railway station,and trains use to come by often. I remember as a child going to the station and getting popcorn from the conductor on the train. Further up the road from the station was the station masters house. Mr Eremko. Across from his house was the public well, by the tracks and the train use to deliver water to it.
Thanks for a trip down memory lane! I always enjoy your web site and appreciate the effort and time you contribute for us readers.