The fabric covered 170 first came off the assembly line in 1948 as a slightly upscaled 140 with the same rounded tail only powered by a six cylinder 145hp Continental. An upgraded version was produced given the "A" designation then in 1953 the machine went all metal with larger back windows and is the definitive 170, the "B" model.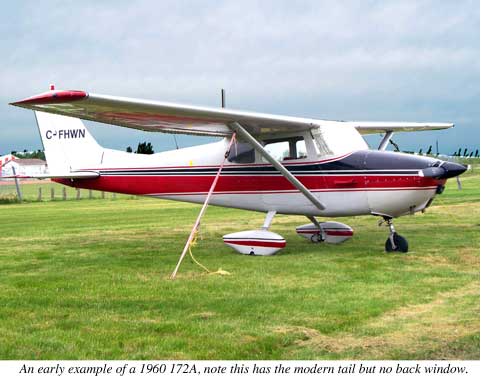 When learning to fly I was introduced to the 170B because an engineer at the flying school flew one as his personal plane and to me it just looked like a tail dragging 172. Actually the 170B is quite a different handling aircraft and even though early 172s like the one shown here did not have back windows the 172 was quieter, in fact almost all aircrafts are quieter than the short stacked 145 170B. Most have been modified with some additional insulation and many have modified the exhaust system to either length the pipes or as in the one shown on this page the exhaust system has been reworked with a single long pipe.
The 170B can handle a fair load and is a true cross country airplane many in Northern Canada and Alaska are seen hustling around in the summer with floats. Owners of 170B Cessnas are an extremely loyal bunch largely because the thing flies really well and handles without many of the vices that make pilot wives widows. The aircrafts stall and spin characteristics make it one of the safest machines built and it will land on very difficult strips with few complaints.
At the introduction of the 170B it sold for $8,295 and was advertised then in 1953 pretty much like a car. But today an average quality 170B sells for between $45,000 and $70,000. You will find some of the listings in the references of ones for sale.
This 170B with its super paint job is regularly found in Prince Albert and besides the modifications to its exhaust system you will notice it has modified intake ports on the nose, a very nice modern spinner and like most aircraft today the antennas indicate that it has had considerable electronic upgrading.