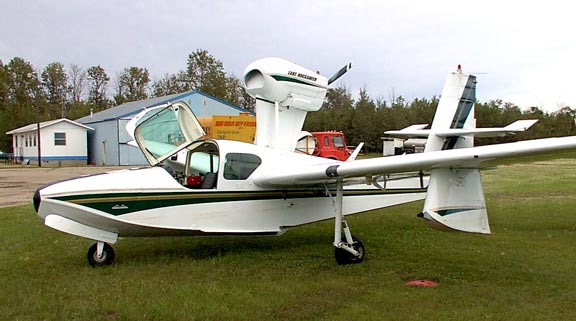 Lake Buccaneer - Amphibian
FTLComm - Tisdale - Saturday, August 4, 2001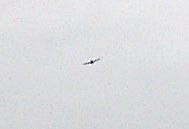 Glenn Down who makes his home out at the lake has the perfect plan for where he lives. This 1974 Lake Buccaneer LA-4-200 was imported into Canada there year it was made and Glenn acquired it a year ago last May. He is installing a lifting dock that will allow the aircraft to be raised out of the water when not in use, but until the dock is in place the Buccaneer will be tied down at is new home airport, Tisdale, Saskatchewan.

After thirteen hours of flying from Orangeville Ontario with an overnight in Gimili Glenn's son brought it home and we sighted it circling Tisdale and I was on hand when it taxied in off the runway.

The Lake LA-4 is the only aircraft amphibian of its type to have been manufactured in recent times. The only other water tight hulled general aviation aircraft to have been commercially produced was the 1944 - 47 Republic Seabee

The LA-4 began its life in 1948 when Colonial Aircraft Corporation produced the C-1 Skimmer with a 150hp Lycoming mounted atop its above the aircraft pylon. The C-1 and 180hp C-2 went on the market in 1955 and in 1959 Lake Aircraft purchased the design with the first LA-4 coming off the production line in August of 1960. In 1970 they moved up the engine to 200hp and renamed the aircraft the Buccaneer Over a thousand of these remarkable and truly versatile aircraft have been manufactured. In 1983 the design was reworked increasing the horse power using a flat six cylinder Lycoming and the seating was increased to six place there are still only a few more than three hundred Renegades including turbo versions.
An empty Buccaneer weights in at 1,555 pounds and can take off with a gross weight of 2690 pounds and carries a full barrel of fuel, seven and half US gallons are carried in each of the two wing floats and a series of switches on the instrument panel transfer that auxiliary fuel to the main tank. The Buccaneer can cruise at 130 knots but normal cruise is at 115 knots. Though the book value for stall is around 50 knots in practical terms the aircraft rotates at 60 indicated and takes about 1,000 feet on land or water to turn into a flying machine.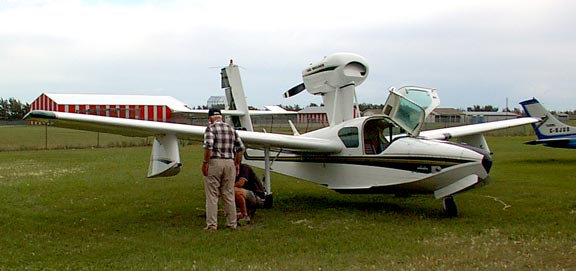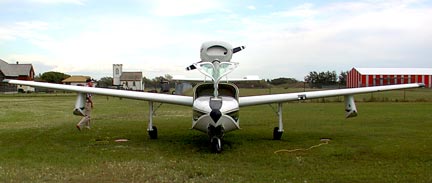 The Lake Buccaneer and its newer Renegade version are not simple aircraft and require some extra training and endorsement to operate. A pilot needs a seaplane rating and retractable gear certification to qualify for operation but with these two added complexities it means that you need to be prepared to handle and stick to the rigours of flying by the book.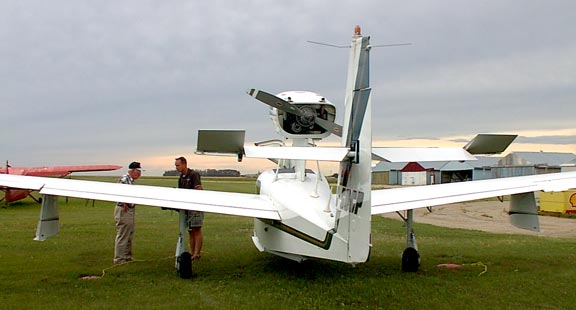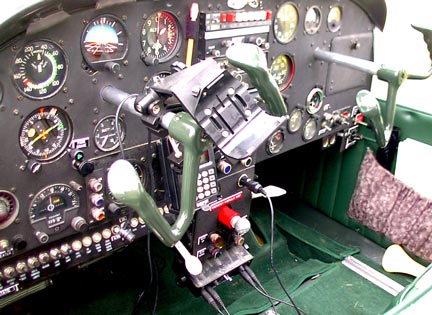 The aircraft is fitted out on the inside pretty much like other single engine machines with some interesting differences. The throttle and engine controls are in the ceiling and by having the engine above and behind the cabin it is the quietest light aircraft I have ever been in and besides the absence of a spinning propellor out in front of you there is no smell of fuel and almost no detectable vibration.

Advancing the throttle in flight produces a noticeable depression in the nose, opposite to the feel in a tractor power Piper or Cessna. The other distinctive difference is the wide stance of the hydraulically powered retractable gear.

In taxi on land the nose wheel castors and direction control is achieved by differential braking.

Rock solid in flight with a wing span of 38 feet and an over all length of 28 feet the Buccaneer with its outstanding visibility is the perfect platform for the sight-seerer, navigator and photographer. The wings are mid body and behind the cabin so you have visibility up of a low wing and down of a high wing and no prop in front, yes!

With so few having been made and being so capable one would have expected them to be much more money than they are. Used aircraft with half life engines and around 1,000 hours on the airframe sell for between fifty and seventy thousand US. They have a service ceiling of 14,700 feet but most Buccaneer pilots rarely see above six thousand and without reserve will need a runway or over a thousand feet of water after 717 nautical miles.

But with such capabilities Northern Canada is virtually wall to wall landing spots. Check out the pictures taken during the circuit