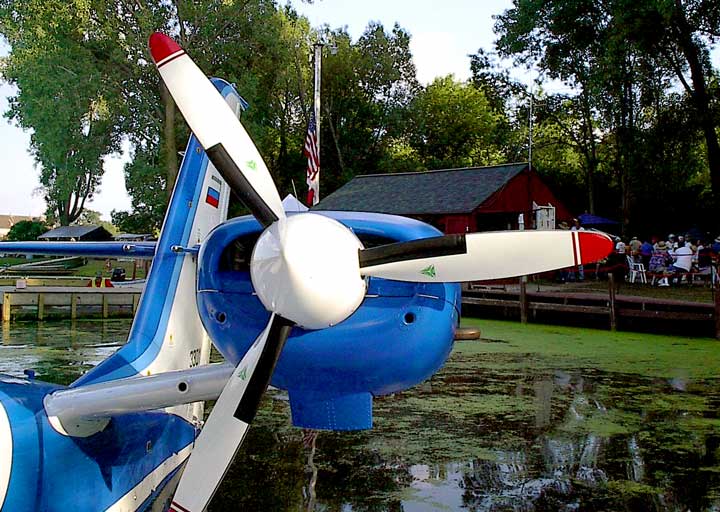 Beriev: Be -103
FTLComm - Oshkosh, Wisconsin - Tuesday, September 23, 2003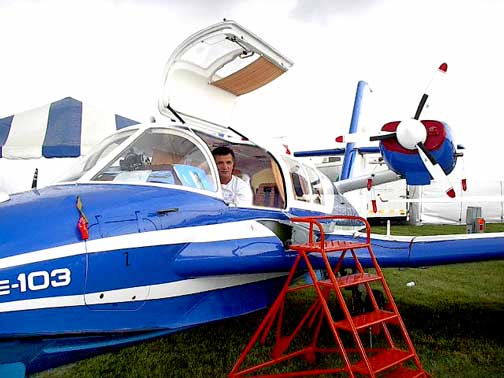 When asked what was the highlight of the first day at the Oshkosh AirVenture 2003 there was no question in my mind and after three days it was still the number one thing I saw out of thousands of aircraft the Russian Beriev, Be-103 was the most impressive piece of technology. Designed by a company that has been building water based aircraft since the 1920s and manufactured to the standards of military aircraft in the same factory that turns out the best designed military aircraft in the world, this is state of the air aircraft design with sound experience and a legacy that is clearly part of the whole machine.

Here in Canada water aircraft means one thing, land aircraft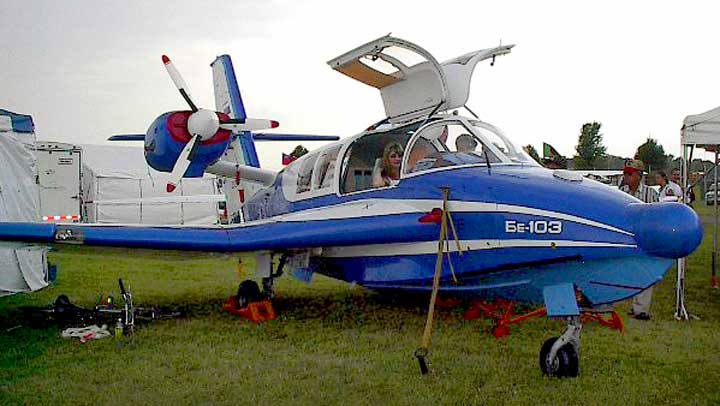 mounted on floats. The only floating hull, flying boats are the outstanding Grumman Goose designed in the 1930s, the World War II PBY/Canso and Canadair's CL-215 fire fighting water bomber. Of course there were some really big flying boats designed for military and airliner use but that era is half a century ago. There have been a few interesting flying boats like the Lake Buccaneer/Renegade and the Republic SeaBee but a commercial aircraft for use by commuter and charter services has not been designed until this remarkable machine.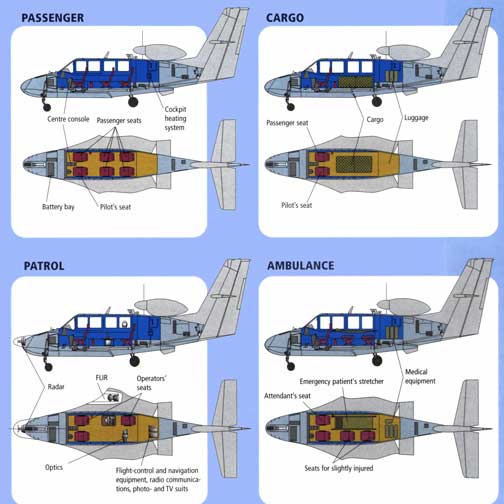 Beriev brought three of these aircraft to the Oshkosh AirVenture using a massive Antonov transport. The one scene at the top of the page was on static display with a sales team while the other was working at the Oshkosh float base demonstrating it capabilities landing and taking off the water. A third was somewhere else on the site and we did not come across it as we wandered around.

In every aircraft their has to be compromises that go together to produce a working system. The performance numbers for this aircraft reflect that balance of roles, design, and modest performance. Sitting on the runway this 4,000 pound aircraft can carry a pilot and about 800 pounds of cargo or passengers. It travels around 160 mph and has a range of around 500 miles. Its two Teledyne Continental 210 hp engines working three blade MT-Propellers from Germany. All of this off land or water for $670,000 US.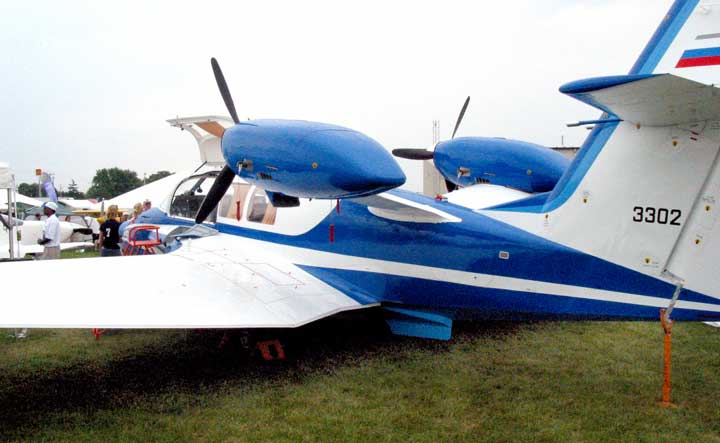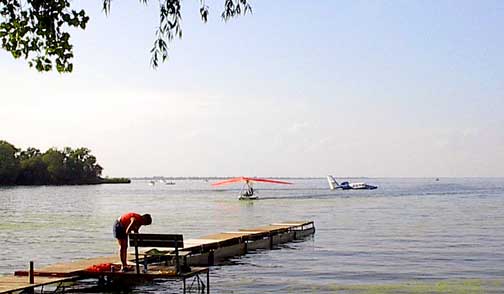 The clean design of the machine allows it to handle the water easily and when it turns into the wind for departure off the lake its wings rise up slipping onto a cushion between wing and water and it is quickly airborne.

In flight the compound wing which looks like with was glued on from a fighter aircraft is a graceful easy to handle flying machine and with leading edge slats and trailing edge flaps it settles back onto the water's surface far more smoothly than ducks and geese.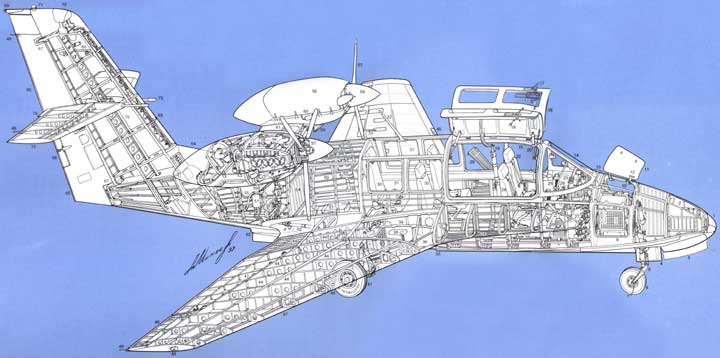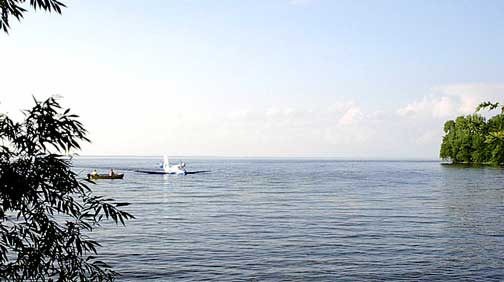 With the engines well behind the passenger compartment it is a quiet plane for it passengers and surprisingly quiet as it passes overhead.

When they complete their demonstration flights on the Thursday afternoon we were watching a group of what appeared to be Russian Navy hands secured the aircraft while a design engineer made notes on the flight. She was in the cockpit for almost 15 minutes checking over the data from the previous flight.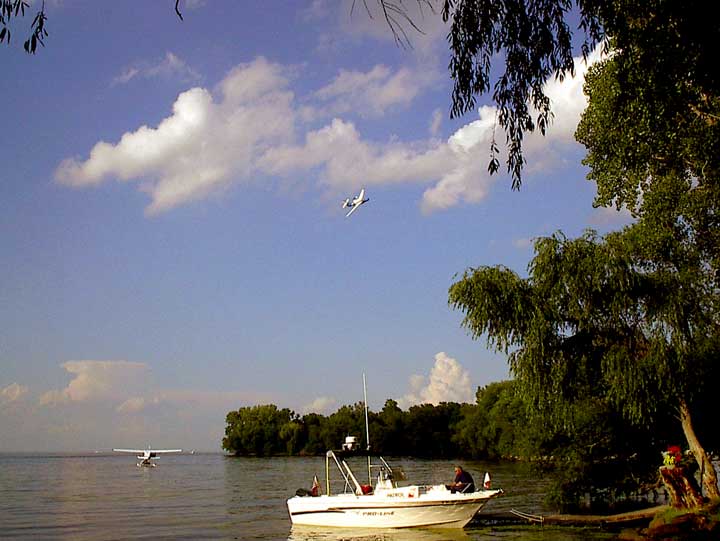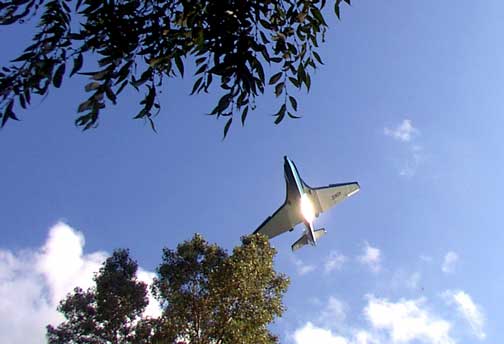 This is a certified aircraft and I am certain Northern Canadian and Alaskan charter companies will be looking it over seriously as a safe all year round performer. Having been designed in Russia it is ready to deal with the same kind of climatic conditions we consider normal.

As we watched this aircraft take off and land it was clear that this was build to take the rigours of cold waters, arctic winters and about anything else that came along. The company has a great web site and I talked to one of the pilots Inna Innes who I am certain would be glad to answer any questions you might have about their remarkable product.
---
Return to Ensign - Return to Saskatchewan News
This page is a story posted on Ensign and/or Saskatchewan News, both of which are daily web sites offering a variety of material from scenic images, political commentary, information and news. These publications are the work of Faster Than Light Communications . If you would like to comment on this story or you wish to contact the editor of these sites please send us email.
Editor : Timothy W. Shire
Faster Than Light Communication
Box 1776, Tisdale, Saskatchewan, Canada, S0E 1T0
306 873 2004