The Week of July 11 to July 18, 1999
Cheap Movies

Sunday
July 11, 1999
Low price theatres offer Winnipegers a wide choice of motion pictures that are just beyond the prime time first release time line.


Our last day in Winnipeg, with a real summer day on the Canadian prairies. Thanks for dropping by and have a quick look at our letters we have a message from Kevin McIntyre.
Narrow Street Ruins Beautiful Afternoon

Monday
July 12, 1999
If there were only two vehicles on a street in any town the potential for them running into one another is remarkably high.
Portage la Prairie St. Bernard

Tuesday
July 13, 1999
We drive for eight hours across the Canadian prairies and the picture I select to share with us is of a dog in a gas station.
Lights Camera Action

Tuesday
July 13, 1999
Let's find out more about television editing and production in this article about a Winnipeg company that makes the magic we see.
We are back, after extending a five day stay into

eleven days are happily back in Tisdale. This is the morning sky at 0900 this morning.
Tuesday
July 13, 1999
This morning we will have an interesting article on the development of the entertainment industry in Winnipeg and a Portage la Prairie dog. These will be posted before noon today.
Black and Smooth

Wednseday
July 14, 1999
Paving crew lays down black stuff on a number of streets and polishes the RecPlex parking lot.
Near Miss

Wednesday
July 14, 1999
Yesterday's big nastys all missed Tisdale and this is a discussion about the phenomena.
New Truck and Car Wash Taking Shape

Wednesday
July 14, 1999
New building project on the South side of the #3 and #35 highway interesection is progressing with the building already framed.

Today is Bastille day, yeah I realise it may not mean much to you but to the people of France it is their national holiday commemorating the beginning of the revolution as the people of Paris stormed the prison holding political prisoners. Vive la France!
Wednesday
July 14, 1999
This morning we have some stories in the works to update you on several civic projects in Tisdale. Thanks for dropping by the new stories will be posted later this morning.
Big Gas Truck

Thursday
July 15, 1999
Ensign takes a look at the movement of fuel.
FunRun

Thursday
July 15, 1999
Here's your opportunity to go on a Harley Davidson motorcycle weekend. Mike Townsend and his camera let us ride along and peek into this metal sub-culture. This article has a lot of outstanding pictures so it will take a moment or two to load.
The Star Phoenix VersusQueen's Bench Judge Ted Zarzeczny

Friday
July 16, 1999
Mario deSantis takes exception with the attitude and point of view of the big business oriented newspaper from Saskatoon as he refutes their premise and sets things straight with regard to the fine levied against Saskatchewan nurses.
The Long Rain

Friday
July 16, 1999
Despite this morning's troubled sky (pictured above at 0900) the rain has at last stopped. Take a look at some pictures around our wet yard.
FTLComm Sales Page

Saturday
July 17, 1999
Today we are introducing a new feature to Ensign, only a few occassions in the past have we had commercial spots on this site but now a new button appears below "Index" of the left hand panel. Click on this button and you can see a modest selection of computer components or systems with their prices from FTLComm.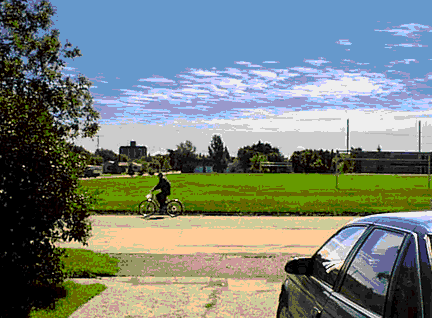 Saturday
July 17, 1999
Good morning Ensign readers. The pictures seen here this morning were taken at 9:30 and show the sort of cheery day it is here in Tisdale. On the horizon just above the bicycle rider's head is the makings of a tower cumulus cloud, it looks like a chance of showers later today.