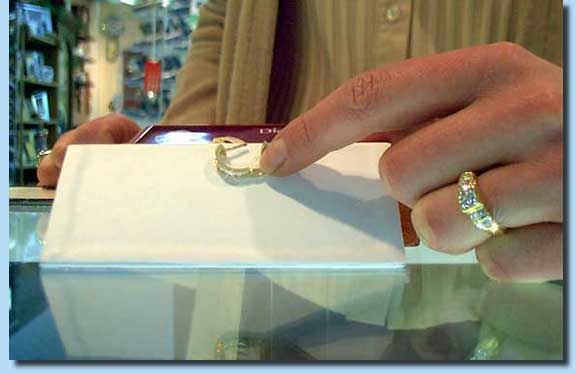 Christmas shopping in Tisdale - Part V
The Tisdale Mall
FTLComm - Tisdale - Thursday, December 12, 2002
Last week we explored the hardware stores and now its time to go to the mall. Tisdale's Mall is anchored by Zellers Select on one end and Extra Foods on the other. Today is a special day at the mall with various craftsmen and craft sellers on hand and this afternoon Santa Claus and a live reindeer make an appearance. But, alas we made our visit in the morning and can show you some of the stores and some of the craft boothes.
The Clothesline

Thursday
December 12, 2002
Ladies wear makes a great gift but it also is an enormous challenge. Here is how to meet the challenge.
TSL Computers

Thursday
December 12, 2002
CD burner and Scanners on sale but more than that local expertise and local service, find out why that's important.
Valle Mens Wear

Thursday
December 12, 2002
A shop with a large inventory of exceptional quality clothing and styles to match all and every taste.
The Dollar Store Plus

Thursday
December 12, 2002
One of the busiest stores in the Tisdale Mall. Time to drop in and look around.
Zellers at Christmas

Thursday
December 12, 2002
Here is a visit to Tisdale Mall's department store anchor as we take a good look at the toy department.
NAPA - Groats

Friday
December 6, 2002
This is a big outlet with about equal floor space devoted to display and parts but it is definitely a place to consider when doing the "guy thing" shopping.
Acklands - Grainger

Friday
December 6, 2002
Like stepping into an unknown world exploring this supplier extended this reporters awareness beyond the familiar.
Thursday
December 5, 2002
As part of our continuing Christmas shopping suggestions how about a family or individual portrait or a gift certificate.

Memory Lane Monograms
Tuesday
December 3, 2002
A new business has opened in business offering custom clothing and promotional products. Talk about a made to order Christmas gift.
Sonia's Menu

Monday
December 2, 2002
This morning I dropped in to Sonia's for coffee and enjoyed the conversation and atmosphere.
Pharmasave

Monday
December 2, 2002
Local Christmas shopping has some interesting varieties of things to discover like the cool bunch of hockey collectibles in Pharmasave.
Pearson's

Monday
December 2, 2002
Year round Pearson's department store has great values and a large stock on hand but their Christmas stock is excellent especially in the toy department.
Martin's

Monday
December 21, 2002
Shopping at home may be more than looking for ornaments and toys so here is a visit to Martin's to check out the furniture.
Family Furniture

Monday
December 2, 2002
Here is the place to go if you are looking for a classy easy chair or sofa.
LaCroix Drugs

Friday
November 29, 2002
Here are some pictures of one of Tisdale's businesses with lots of selection for the hometown Christmas shopper.

Hi-Fashion
Friday
November 29, 2002
Clothes of all kinds but especially unique western gear set this store apart from the big box noise factories in the cities. Shopping at home makes cents.
Christmas Shopping, Consider your hometown
---
Return to Ensign - Return to Saskatchewan News
This page is a story posted on Ensign and/or Saskatchewan News, both of which are daily web sites offering a variety of material from scenic images, political commentary, information and news. These publications are the work of Faster Than Light Communications . If you would like to comment on this story or you wish to contact the editor of these sites please send us email.
Editor : Timothy W. Shire
Faster Than Light Communication
Box 1776, Tisdale, Saskatchewan, Canada, S0E 1T0
306 873 2004