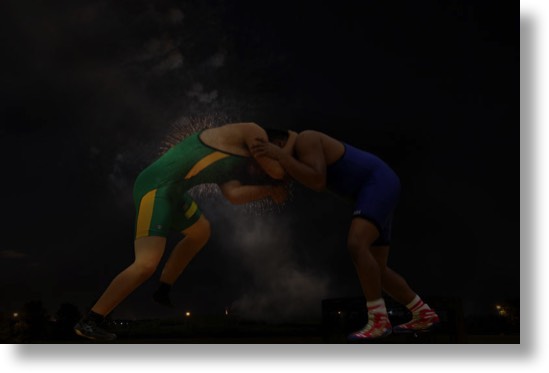 Genesis 32:22-31
Matthew 14:13-21

August 3, 2014

Year A


We have been following the Old Testament story of Rebekah and this leads us to today's story of Jacob wrestling till day break.

Jacob leaves his home where he has lived with his mother's uncle Laban, for a very long time. It is here that he acquired two wives and eleven children. These children he acquired from his wives, Rachael and Leah and their handmaids, Bilhah and Zilpah. Jacob stole his birthright from his twin brother Esau and so he is worried about how his future might unfold.

He has become a wealthy man in his time with Laban, but he has decided it is time to leave and return home to claim his birthright. He has been warned that Esau is coming. And Jacob of course assumes that Esau is angry. Jacob is making a decision based on his faith for his future. We likely always struggle with what exactly is the right decision for our lives.

There are times when we struggle with our faith, both in ourselves and in the world around us. Both of today's readings acknowledge that living requires us to think about what it means to have faith.

In the Genesis story Jacob dares to wrestle, he doesn't simply give in. And perhaps Jacob has learned that he can't control and manipulate the world around him. The theologian
Matthew Fox
believes that when we risk we are transformed. Jacob dared to wrestle with his unknown assailant and he was transformed.

The Matthew story is a familiar one where the 5000 are fed. It is a story about abundance.
Parker Palmer,
a leading Quaker theologian writes extensively about abundance versus scarcity. He believes that if we create abundance in our midst and if we believe that there is enough for everyone, then there will be enough.

Parker would say that the feeding of the 5000 is a story about abundance. He might write the story something like this: When the people gathered to hear Jesus speak and evening came and it was time for supper and it became evident that there wasn't enough food readily available for everyone, then the people gathered said, "Let's put together what we have and see if there is enough."

So imagine the scene. There would be women and babies and children and they almost always carry food, things like cheese and crackers and cookies, maybe sandwiches. I suppose what they really had with them was bread and dried meat. Other's gathered there, men and women would have food. When it was all put together with the loaves and fishes there was enough, more than enough for those gathered. However, I believe that moving from our belief that there is never enough to a belief, or faith, that there is plenty, if we simply are willing to create that abundance, is not easy. We might have to wrestle until daybreak to create some of that faith, but Jacob shows us that it is possible. We just have to dare to create.

I lived and worked on Haida Gwaii (Queen Charlotte Islands) for seven years. I lived on the reserve in the Haida village of Skidegate. I hadn't been there a year when in the spring time there was a food fishery happening. A food fishery is when the men and women go out and catch salmon and halibut for the people in the village. One afternoon I was having lunch with the women at the senior's complex and they said to me, "Do you have any fish yet?" And I replied, "No, not yet." They explained to me that it was food fishery and that they would make sure someone would leave fish for me. They said when I wasn't home to be sure to leave a cooler and some large plastic garbage bags on my front step. I finished my lunch and went home and put a cooler and bags on my front step, and then walked down to the mail kiosk for the mail. When I came back up the hill towards my house I could see my cooler was full of fish. There must have been 25 Sockeye salmon sticking up out of my cooler, with another 20 or so in one of the garbage bags. Abundance indeed. And then I had to learn to fillet them and how to can them. But I had fish for the summer which I shared with friends and family.

This is a simple story of abundance, but it is about people who understand abundance. Also, I suspect it is about people who wrestle with what challenges them. They wouldn't hesitate to take on whatever challenges come their way. This ability to take on our challenges is called faith and our ability to wrestle with God, or with the One who creates in our midst. Perhaps a wrestling with our heart and soul which is God. (
James Hillman
)

Remember, this wresting is a metaphor for sorting out our lives. This wrestling isn't easy because it requires us to know when to participate and when to step back and, perhaps discern for a while, what it is we really want to do. At what level do we want to wrestle, how much effort exactly do we want to put into something? And at the same time, we might be creating abundance. I believe these theological pieces: faith, wrestling and abundance go hand in hand. Our job is to discern how to live out our lives in the midst of them.

We are certainly at a time in the history of our church where we are required to be faithful and to wrestle with what we believe. The United Church of Canada has had a long and faithful history, and we have made many positive changes within the culture that always included the church. Now we stand outside the mainline culture and we have struggles that are difficult to measure and difficult to comprehend. I believe the first thing we have to wrestle with is church numbers and church numbers are not going to grow, or change very much and if it does, that will be nice. But let's imagine that they don't change very much, how might we have the faith to wrestle with creating abundance in our midst. What would that look like?

I can imagine you having a ten year plan, a vision that would last for ten years and then you could re-create again. You will have to focus on abundance and you will have to have faith that will lead you to fulfilment of a ministry that will encompass ten years. I have no idea if this will happen, but as I look around and see what you have here and see who is here on Sunday morning, I believe that ten years is a possibility. It will have to come from you, because this is your church.

The question that we will wrestle with then is, how will that happen? Are you willing to offer more money to allow a ten year vision? Or, do you see just a handful of people fundraising to allow for a vision? Or, should we consider partnering with organisations outside the church to find ways to make our vision happen? These are important decisions which will determine the future of St. Paul's in Tisdale. These are issues that the interim ministry will grapple with in the next two years. We will draw from our faith as we wrestle with our future.

This is my fourth Interim Ministry position, and for the most part, congregations struggle with Interim ministry. I think they struggle because they don't understand what interim ministry is. It is a time in between, in between getting started on the work that the Transition Team will bring forward in the near future and the end of the two year interim, when it will become clear, if you are ready to call a minister. The work we do in between, the issues we struggle with and the abundance we create will determine what happens next. If it doesn't sound like an easy task, you are right, it isn't. But it is possible. With your willingness to work at this ministry much is possible. The transition Team will be clear as to what they need from you.

When I talk about abundance and having a ten year vision, I am talking about finding ways to establish a vision within this congregation. I am talking about having enough money to carry out your vision. Your vision might include some different aspects of ministry that you don't have at present. I invite you to think about what you want your church to look like. What will you wrestle with and does your faith allow you to wrestle with your key issues? Do you believe that there is abundance available in your congregation to create a ten year vision?

I am not sure this is a very cheerful topic for a summer Sunday morning, but considering the lectionary this is where it took me. On a positive note, people I have worked with, have struggled with many issues, but over time and sometimes long after the two-year interim was over, they created a vision of church/ministry in their congregation. It might not have been what they first imagined, but in the end it fulfilled their dreams and their struggle to be the church, and that is called a faith process.

This morning we have explored struggle, faith and abundance. Those three concepts lead to transformation. They also offer the opportunity to be creative. Matthew Fox says that within transformation we always have the opportunity to be creative. He says that all of this requires a letting go and a moving on.

This morning I invite you to think about the future of your church. This week if you have time, jot down what you want that to look like and then ask if you believe the congregation has the faith to wrestle with these issues. And of course, do you believe there is abundance to create your vision?


-S Ferguson-Hood