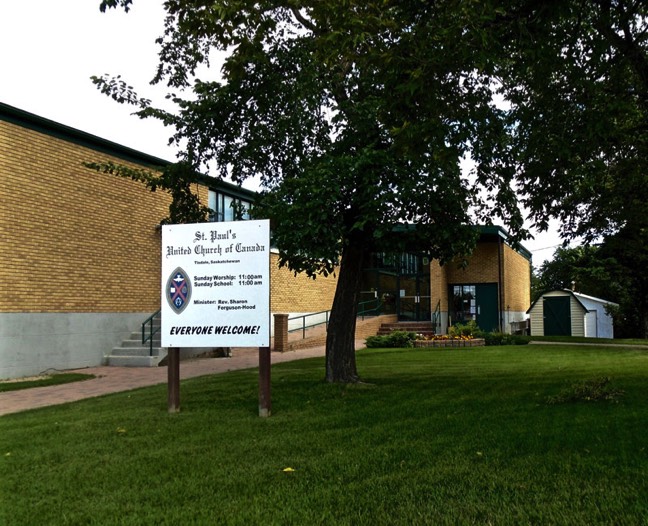 A day of rest
Mark 6:30-34, 53-56

July 19,2015

Year B


The lectionary reading from the Book of Mark serves as bookends for two stories, the feeding of the five thousand and the storm when Jesus walks on the sea. Why these bookends, two short pieces placed here in the lectionary? They are short passages and are about the healing of the public crowds and about how we care for ourselves. They also serve to remind us of our context of ministry and Jesus' ministry.

We are reminded of the Sabbath rest of the stepping into a boat and escaping far from the crowds. On the water Jesus found rest. Upon his return to land the people waited for him to return to work. Historically, Christianity is not a religion of withdrawal, or of going inward, but one of place, or one of the lands where the people reside. At one time the prairie landscape were dotted with small Christian churches, where people gathered to worship, to celebrate and to grieve. They came to this place on the Sabbath to remember who they were and to be reminded of a history rich in word and song.

It is unlike other faiths where reality is found in meditation by going inward and downward, our direction is outward and ahead. The United Church of Canada is steeped in the call to social justice. Today's passage invites us to consider both ways of being. Christianity is on the shore with the people, sharing in the word and involved in healing. At the same time we are called out on to the water to a life of contemplation, reflection, and rest.

How do we live out these two dynamics: Rest and social action?

St. Paul's United Church is involved in some outreach. This is the outward focus of our United Church presence. Of course we support Mission and Service at the National level. We are also involved in a rummage sale, that happens spring and fall, and that appears to be an outreach project that involves the community. We support the food bank, and we are also now a part of the Tisdale Elementary School Project and we are collecting school supplies for the fall.

In November we will have a fund raiser to raise money for a project in Nepal. This project is run by the 3Sisters Trekking Co. and they have an education program that trains young women to be guides and porters. They also negotiate fair weights and wages for guides and porters. They educate young girls in the home they have for them, and they have bursaries and scholarships for girls and boys in the community. For the most part this Nepal project is focused on education of girls and women. One of the most important factors in the education of girls and young women in Nepal is that it stops the sex trade to India.

All of these projects reflect to the community of Tisdale who we are.

I believe it would be wise for the church to explore what it is we want to be. How are we seen in the community? My experience is that for the most part we are not very well known. But, maybe I am not talking to the right people. It does appear though that we are living in a culture where the church has lost its meaning. However, given our outreach to the community, and our outreach is fairly impressive. How then we could be better known to those who need our service. This work won't likely put people in our pews, but that's not where we are at. We are talking instead about how we might involve the community at a different level because that is perhaps, the future of the church.

A couple of months back I took on a research project in Tisdale, and I talked to the Presbyterians, the Lutherans, and the Anglicans. They all agreed that times had changed, attendance had dropped drastically, and there are few children attending church and very few youth are a part of our congregations. Balancing the budget is difficult for all of us. However, at this time there is no interest in amalgamation. Perhaps someday, these congregations can come together and find a way to share costs and be the church. The one thing I did learn is that I believe we are the only ones deliberately thinking about our future and what it might look like. We are carefully looking at our finances, and considering what we can do next June. We must attempt to consider all of our options. This fall we will form a JNAC (Joint Needs Assessment Committee). This is the group of people that will discern what direction St. Paul's might take. The congregation and the Presbytery make the final decision. This is the outward work of the church.

Work outside the church has its struggles. It is hard work and it is hard work getting people to understand all of the dynamics. We are part of a cultural shift where religion and the church no longer seem to be important. It is clear that most of us within the church, no matter which United Church we are talking about, have our work cut out for us. The United Church and St. Paul's is already involved in social action and I believe that could be a part of our future. Just to be clear, the rummage sale, the Nepal fundraiser, the food-bank and the school supplies project are all social action.

These projects might not sustain our building, and so we will have to find a way to work through that piece. But social action will give us reason to meet and to have a purpose. Our biggest challenge will be to find a way to be sustainable. We cannot sustain our building in the way we have in the past and in order for the church to function, you need paid leadership, for as long as you can afford to do that.

In the midst of that social justice work you will have to rest and take seriously what it means to have a Sabbath. What does it mean to rest, or to take seriously a Sabbath day? If there is one thing that we might save in the structure of the church I hope it is a realisation of the importance of the Sabbath. How do we take time to rest? How do we hold up the importance of rest while we engage in our work and our mission? Taking care of ourselves will look different for each one of us.

I am presently taking the opportunity to read a book by
Christine Valters Paintner
. It is laid out as a twelve week practice called, "Nurturing Your Creative Soul with Monastic Wisdom." This practice is very much about finding opportunity for rest. But it's also about creative practice like photography, writing, reading, walking, and so on. We will have to understand that Sabbath happens on any day and not necessarily on Sunday.

One of the ways we might rest or take time for ourselves is through meditation. Paintner believes that meditation is important and she writes: "We make space for the silence in our lives so that we might be able to hear more clearly." She asks questions like: When you enter a Sabbath time are you able to offer room for your soul to truly rest and renew? Are you being called to renew yourself, or to extend your gifts into this world? In other words after you have had a day off, have you had some rest,
do you feel ready to go back to the working world? Do you feel renewed?

The creative cycles of rising and falling, of outward expression and inward contemplation, are reflected in the common phases of our lives. We can find them in the setting of the sun, in the weekly rhythms of work and Sabbath, the monthly waxing and waning of the moon, the annual change in seasons, and of course, in the cycles of our own life stages of ageing, and seasons of work and relaxation. In this way, nature has much to teach us about honouring the rhythms in our own lives so that we can embrace the fruitfulness of work, and Sabbath.

So, Sabbath and the practice of resting don't have to be complicated, but it requires that we be diligent in our attention to it. We will have to pay attention to how we celebrate/use the Sabbath, and of course to how we reach out in service to our world and community.

To close we have lots to think about. These two short bookend passages from the Book of Mark give us lots to ponder. There is the piece regarding the church and how will we work out who we want to be. I invite you to share your thoughts with the Board, with the Transition Team. You, the congregation play a major role in this church and so others are interested in what you are thinking. It is always helpful to know what you are thinking and not have to guess about what is on your mind.

I invite you this week to think about Sabbath and how do you celebrate Sabbath? And what do you think about St. Paul's United Church and its social justice work?