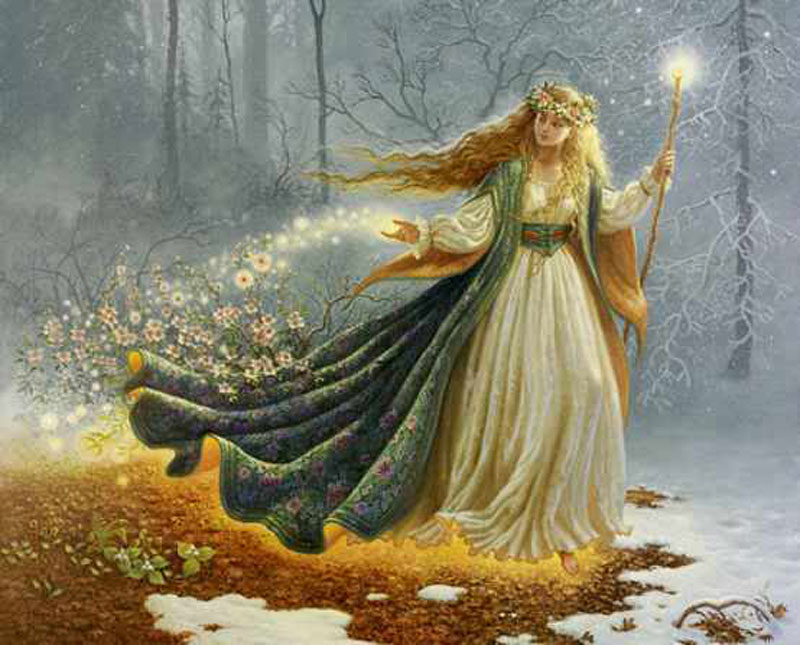 Reflections on Brigid
Mark12:28-34
Ruth 1:1-18

November 1, 2015

All Saints Day

For Christianity the instruction to love God and others grows out of the relationship between God and ancient Israel. The Hebrew Scriptures are filled with declarations of God's love for humankind and stories of how we live out our lives in relationship. Indeed, we are told that being loved and loving in return, is the most important thing of all.

The laws of Judaism are an integral part of their covenant with God. Yet at the same time there is a passion to try to reduce them in their volume to a few pithy sayings. The story is told of the famous
Rabbi Hillel
being asked to recite the law and responding with, "What you hate for yourself do not do to another."

In today's reading, a scribe asks Jesus to declare his take on the essence of the law, and Jesus responds with simple and powerful words: "Love God with all your being, and love your neighbour as yourself." The commandment to love God was central to Judaism and Jesus quotes Old Testament scripture about how we will love our neighbours. Jesus suggests that love for neighbour includes everyone – indeed, all of creation.

Beyond that, he reminds us of the need to love ourselves. One can interpret, "love your neighbour as yourself" to mean "as much as" but the closer translation is more "in the same way as."

An analogy can help. Whenever one rides in an aircraft one hears the instruction regarding oxygen masks, and the specific words "If you are travelling with someone who needs assistance attach your mask first before assisting others." The point is clear: if I do not take care of myself, I cannot take care of others. If I do not love myself, I cannot love others.

Perhaps the stronger image is to imagine the words, " God, self, and others" as words on a mobile, held in balance and tension. Jesus, in the way he gives these commandments, implies that none is more or less important than the other to live a life of faith, we need to keep these important aspects of our life in balance.

Just a brief comment on the Ruth reading: The Book of Ruth is set during the time of the Judges; the Book of Ruth does not concentrate on international relations, or community faithlessness, war or death. Rather it speaks of food, plenitude and "loving kindness and loyalty" shown not by the deity but by a Moabite woman. Beginning with a famine, departure from Judah, childless marriages and the deaths of three men, the text moves from the emptiness of Moab to the renewed fertility of Bethlehem: a good harvest, marriage and security and the birth of a son.

Now I want to talk about Brigid. As most of you know I just spent two weeks in Ireland where I studied Celtic Spirituality. This was study leave and I used my study leave allowance to do this. Mary Meghan was our teacher; she was very knowledgeable and I learned a lot from her.

Much of Celtic Spirituality focuses around the goddess, Brigid. Brigid was born in 451 AD and died in 525. Brigid was eventually made a
Saint in the Roman Catholic Church
. Brigid's Celtic spirituality grows out of Paganism and is a blend then of Paganism and Christianity. I believe that today's readings from both Ruth and the Gospel of Mark might have developed from Pagan times and Celtic Spirituality.

This Feast day that falls on February 1 was known in Pagan times as Imbolc, and is most commonly known to us as Candlemas.

St. Brigid's Feast day, Candlemas, occurs on the first day of February, the beginning of spring, (In Ireland at least) and the period of the rebirth of nature after the long death of winter. The turning of the sun at the winter solstice occurred six weeks before, and the lengthening days speaks of new life and fresh beginnings, as the poet
Raifteri
expressed it, "Now that the spring has come, the days will grow longer, and after St. Brigid's Feast day I will hoist my sail." Hence, the words in one of our familiar hymns, "I feel the Winds of God today, today my sail I lift" (Irish Melody 1906).

Celtic Spirituality comes from the Indigenous people of Ireland, it is an oral tradition, that comes from within. Celtic Spirituality comes from the heart, it requires us to listen closely to what our heart is telling us. It means staying out of our head space where we quite likely hear a very different message than what the heart is sending us.

It is a tradition of blessing, always these blessings are an invitation. They begin with, "May you," or "May I." They are blessings of action and they fill your day, these blessings move with you. This repetition is part of the culture, this spirituality becomes a part of you and eventually you carry it in your heart.

The poet
William Butler Yeats
had an ongoing dialogue with his soul which always included a blessing from the heart. This process of blessing is a simple way of life in the positive sense. This repetition is part of the culture and this is how it becomes a part of your life. It leads to gratitude.

This blessing process, the idea of being grateful, even for the small things, is what holds you close to the creator, or to the spirit. The earth offers energy and this energy is available wherever we are. Another word found in Celtic Spirituality is
Anam Cara
. Anam is the Gaelic word for soul and Cara is the word for friend. In Celtic tradition an Anam Cara is a friend, companion or spiritual guide. In everyone's life there is a great need for an Anam Cara, a soul friend. In this relationship you are understood as you are, without mask, or pretension.

Anam Cara also pertains to love. Love is the threshold where the divine, and human ebb and flow, one into the other. Love is the most real and creative form of human presence. An expression of human consciousness, it is this love that includes a depth of awareness and reverence for presence. (Connection to the gospel reading)

In Celtic Spirituality,
All Saints Day
is important. All Saints Day is today, Sunday November 1 and tomorrow on my United Church calendar is something called,
All Souls Day
. All Saints Day is the night in which the other world is very close. The veil between the living and the dead is the thinnest on this night. This is a thin place where it may be possible to sense the spirit world in our midst. It is on this night that you need your Anam Cara, your soul friend with you. This is powerfully different from anything we know. This thinking was lost in the transition from Paganism to Christianity. It was within Paganism that the presence felt on the eve of All Saints Day was called spirits; Christianity changed the word spirit to angel.

In Celtic Spirituality we are always open to the mystery of the sacred journey. Celtic tradition holds up both the light and the dark. We need to be grounded in our spiritual life. We need to appreciate the paradox that all of life offers. The soul like dusk and dawn, thin places, the soul likes candle light.

The Celts believe there is always plenty of time, the goddess has all of the time in the world, and within that time, we should take time for silence. This spiritual journey is also about acknowledging the broken bits, then healing those bits and integrating them into our being. It is important to speak these words, to share our brokenness with someone else. It's also important not to get caught up in the chaos, but to be able to step aside and stay focused on the positive. Remember you are blessed in every way.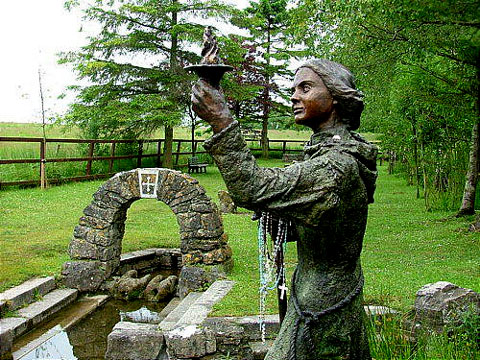 Brigid is at the centre of Celtic Spirituality, and Brigid covered a lot of ground. Brigid was the goddess, or the woman of balance, peace, hospitality, dancing, care giver, healer, threshold woman, she looked after both the inner/outer parts of our soul, she was generous, she had power. She was goddess of the sacred flame, she kept the fire going. She made lots of beer; she was the mid-wife of our souls. She was the goddess of water and in Ireland there are many sacred wells.


We visited two or three sacred wells. One we visited was Brigid's well and we knelt down where the fresh water bubbled up and we asked a blessing for ourselves. I brought water back from that well and I invite you to come forward and dip your fingers in Brigid's water and ask for a blessing in her name for your life. For example you might say, "In the name of Brigid may I be blessed with happiness." You can ask your blessing out loud or to yourself. But remember to use the word "may" so that it is an invitation and not a demand. Come whenever you are ready.