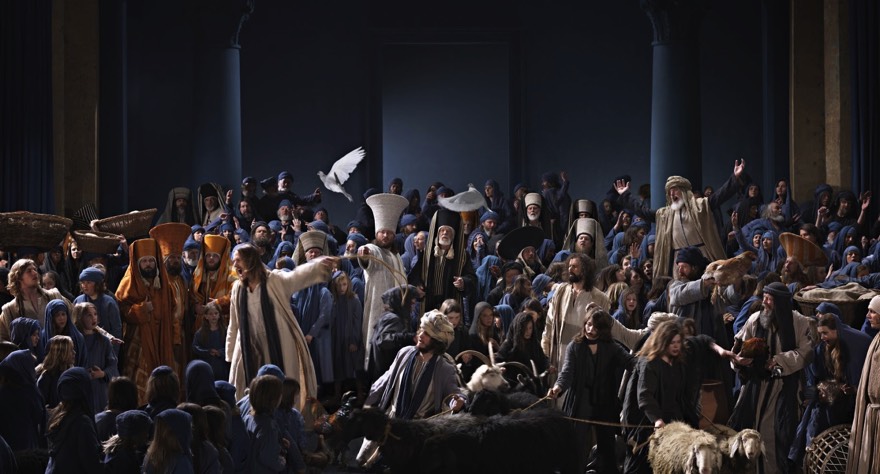 A depiction of Jesus cleansng the temple
Money
New Testament John 2:13-25

March 8, 2015

Year B Lent 3


Here's what it looks like in the story from John's gospel: Massive gates open unto a courtyard the size of several football fields. This complex of temple buildings is beautifully crafted of the finest materials, the temple gleams golden in the morning sun. The outer courtyard is bustling with merchants selling animals for sacrifice. The money-changers are changing money into authorised temple currency. This temple currency was called shekels, or temple coins. These shekels were needed to purchase a sacrifice, or pay annual dues. An exchange rate was charged, and this put an additional burden on the people who were already struggling. The noise at this place would have been incredible. Thousands were gathered for the Passover and they would be talking and laughing together. Remember, they may not have seen each other since last year at the same time; birds were cooing and squawking, cows were mooing, sheep bleating, goats doing whatever goats do.

It was in the midst of all of this that Jesus took action - if he had tried to protest verbally, no one would have heard him. It was a dramatic moment in his history, perhaps the most dramatic - the upsetting of the moneychangers' tables and then driving the moneychangers themselves out of the temple.

At this time the temple was meant to be a central storehouse from which to distribute the wealth of the land. Perhaps like a food bank.
As a people faithful to God's covenant, all were to have their fair share and no one was to be hungry. However, by this time the wealth was almost entirely benefiting the religious establishment and the merchant class in Jerusalem. Meanwhile, over 90% of the Jewish population was desperately poor. And so Jesus was denouncing the exploitation of the common people. Jesus is acting on behalf of the marginalised. There is no argument about whether or not Jesus was angry. He was, indeed angry.

This story from John then is about money, poverty, and hunger. Reading this passage on about Wednesday made me ask, what is this money thing all about? I don't know much about money, but I do know what my experience has taught me. I grew up on a farm in rural Saskatchewan where we had a pretty good life. Plenty of food, good community dynamics and social connections, perhaps not great amounts of money, but always enough to get by. From that background I have lived my life.

A few summers back I went to the
Fringe Festival
with my twelve year old granddaughter and she was hula hooping on the street. She had a dish with her where people dropped their money. I hula-hooped with her sometimes. She made about $80.00 in one evening. She didn't share her profits though and I wondered why I went to university for eight years! Perhaps I could have hula hooped my way through life.

I have spent some time this past week investigating what is happening regarding dynamics around money. On
CBC, Jeannie Lee
reported that there are 1,826 billionaires in the world with an aggregate net worth of 7.05 trillion dollars. That amount is up 6.4 billion from a year ago. This total includes 290 new billionaires.
Bill Gates
remains the richest man on the planet with a fortune that grew 3.2 billion since last year. He is now worth 79.2 billion. The rich are becoming richer and the poor poorer.

On the news I saw a bulletin that said the US is fifteen trillion dollars in debt and much of the money is still being used to support the military.
I thought to myself, I don't even know what fifteen trillion dollars is. So, I called a friend, Terry Keller, and he said well look at it this way - a billion is one thousand million and a trillion is one thousand billion. So, ten trillion dollars is ten thousand billion. 10,000,000,000,000. Thirteen zeros.

Next question: Who would lend the US, or anyone for that matter ten trillion dollars? And he said, yes it is lent to them, likely China is the lender. Then the US prints the money. They hope that their economy is worth that much and that it will withstand the debt. However, it needs to be paid back so that the economy has support or backing. Having that sort of money in circulation means that it is valuable just because it is available and it is sought after worldwide. I have traveled many places and I have always been able to use American currency.

Russia was the only country where some one questioned it and that was only because the bill was creased. Terry also said, of course inflation remains a big concern, and at this point the US is probably pretty concerned for the future. They must wonder how this will work out. He said they have to get oil from the Middle East, from Iraq, Iran and Saudi Arabia, - they, the US, are using a million barrels of oil a day, just to fly airplanes and drive cars. He said their future depends on oil and keeping the country stabilised. Better for the US and for us, depending on how you view the world, if the dollar can remain low because we can sell our resources to them and they will buy them because it doesn't cost them very much.

Having said all that: In Canada the
Toronto Blue Jays
are paying their top players about $15, 000, 000 million dollars/year.
Chris Kunitz
, a family friend from Raymore SK who plays for the
Pittsburgh Penguins
has a contract over a four-year period for 14.9 million. The
Sandra Schmirler Foundation
was collecting money for children in crisis at the
Scotties Tournament of Hearts
and the money goes to
neonatal units
across Canada. They have raised 2.8 million dollars and have donated to 35 hospital neonatal units.

If you think you want to run for a Federal leadership position the entry fee is about $75,000.00, And ,speaking of Canada, we fare fairly well in the world, but we won't know until April what our budget will look like.

As I watched for signs of money this week the one big learning was that money is the centre of our society. It's everywhere. We see it, we talk about it and it is a fairly significant part of our everyday lives. Understandably so. Without it, life is not easy. If we have too much of it maybe that isn't easy either.

We know that Jesus was concerned with money and how it was being used. He was concerned with the poor and the marginalised. He was sorting out what could be done to make the world at that time, a better place for everyone. He was angry because the people were living in poverty and poverty means hunger. What does poverty/hunger look like in our country over 2000 years later?

In 2014, a Saskatoon based research group (
Hunger Count
) showed that each month 850,000 Canadians including more than 310,000 children, visited food banks in March. Just more than half of food bank users are on social assistance, while more than one in eight is employed, in low wage, part-time jobs with no benefits and little income security. Hunger is a symptom of a much broader poverty problem, including that of the working poor. People who are working in the midst of fighting poverty say that poverty is the root cause of hunger. It would have cost 18.6 billion dollars to bring all Canadians up to the poverty line. In 2014, 1 in 6 people are currently or recently working.

The most recent facts that I could find are the following: In Canada there are 1.2 million children living in poverty, almost 1 in every six children. It has been 27 years since Canada's first food bank opened in Edmonton. In 2009 there were about 700 food banks operating in Canada with 2000 affiliated agencies operating them.

In one month 777,869 people in Canada received emergency groceries from a food bank.

Families on social assistance, after paying rent have about $203.00 left for food.

40% of food banks report that they have difficulty meeting demand.

36% of people using a food bank go hungry at least a couple of days a month.

58% of those who use a food bank are female.

19% of those working still need a food bank.

Number of children in food bank households - 50,400 - 37%.

Things don't look much different than they ever did, but we might expect them to look different. I think we know why they are not different. They are not different because of greed; unequal distribution of wealth, there is a broader gap between the rich and the poor. For example, Canada's top 10% richest families with children had average incomes that were more than 13 times higher than the bottom 10%. We are losing our middle class. There will be more poor people, not less. Hunger is on the rise.

I read somewhere that Bingo and lotteries are the stock market for the poor, the "wall street" for many

Can we make changes?

I don't know if there are any money changers we want to challenge or tables we want to upset, we should likely not burst into the Credit Union with our whips and cords. But we can lobby for change.

I studied at
CCID in Mexico
and one of the things we were constantly being told was that we have the power to lobby the government and we must do that. In a caring Canada, our political leaders would make ending poverty a priority. They could find common ground and set priorities on spending that benefit children and families and help to achieve social inclusion. The government, if it wanted to, could end hunger in Canada. It could, but it's not going to, unless we apply the necessary pressure. So what do we do? We support the food bank, we lobby when we can, we speak out on the issues of poverty, and perhaps we learn to live differently. We buy
fair trade coffee
to support the coffee growers around the world, we buy veggies grown in Canada, we read labels, we support local projects and most of us do that. Somehow, or another, we support those who have less than we do. We support them with our hearts. We find ways to show that we care.

I think that is what Jesus was about. He was about changing the world because he cared enough to do that. He only got angry once in the whole darned story and that was a good thing to do.

Today's passage has made me think about money in new and different ways. As a church, with some money you have the opportunity to ask,
"How would you like to spend your money? Ethically what could you spend your money on?"
There are no easy answers. However, in our circle conversations we will discuss a variety of ways that we might use the churches money."

I always have trouble with how to end sermons. So today, I am going to end by telling you a story about money.

Last November I received a speeding ticket in Saskatoon. I was speeding in a school zone and I think driving in the wrong lane. I was just charged with speeding. $225.00. I decided that I wasn't paying the ticket and when the time came I asked to do
"Fine Options,"
or what might be better known as
"Community Service."
My choice of location for this work was the
SPCA
. So, I walked dogs to pay my fine. Twenty-three hours equals $225.00. I guess I worked for minimum wage. But my thought is why throw away 225.00 when I can work that fine off at the SPCA. Where did I learn that? I don't know, but somewhere.

I invite you to reflect on your experience with money. What do you think about money and where did you learn what you know?